Before starting Onida, I was in the Merchant Navy and got the opportunity to travel across the world. Once I started Onida, I would travel to Japan once every two or three months as our financing was from there. I have been fortunate - Japan has taught me a lot over the years. The Japanese are perfectionists. Back in those days, their expertise in technology was unparalleled and it taught me a lot about my own business. A lot about the Japanese culture intrigued me. For instance, during a normal nine to five business day, only 40% of business decisions would be taken. Almost 60% of business deals would be cracked between 5pm and midnight, and believe it or not, during the communal baths. Japan has a culture of common baths, and most of my business deals were done during those baths. It was a bit of a culture shock for my business partner but being a boarding school boy, I did not have any problem. While most people like to go to Japan during the cherry blossom season, I believe it is a little overrated. It is beautiful, of course, but everything during the season is expensive. Japan is beautiful throughout the year.
LOVE FOR THE FINER THINGS IN LIFE
I have always been a foodie but now at 68, I have to be very careful about what I eat. I can hardly eat Indian food now because of the spices that we use. During my frequent travels to Japan, I fell in love with their food, be it sushi, sashimi or the Japanese rice wine, Sake. What I admire most about Japanese dishes like sushi is their focus on procuring fresh raw materials of impeccable quality. They are very careful about the quality of the products they use, and it's admirable. Since most of it is raw, it's also very healthy. They also have some deep fried delicacies and one of my favourite things from Japan is deep fried ice-cream.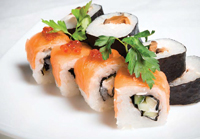 Overall, travelling has helped me evolve as a person; it has made me appreciate the finer things in life. I also like collecting food items from different parts of the world. I have always loved cheese and unfortunately India doesn't have a lot of good cheese. So whenever I go to a new place, I do a lot of research and pick up the best cheese from that place. I also have a huge collection of wines, both red and white, from across the world.
OF UNFORGETTABLE CRUISES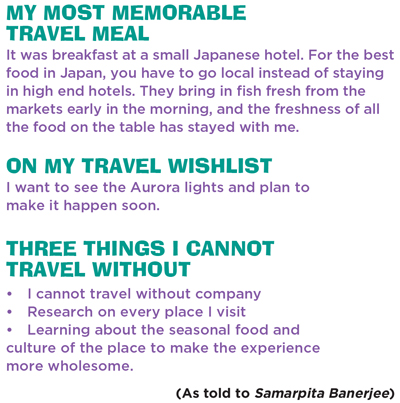 Until a few years ago, there used to be a cruise that used to go out from Mumbai on Friday evening, stay in the sea for a day, and come back to Mumbai by Sunday evening. The cruise would have a casino, cabaret and a beautiful deck. But suddenly there were changes in policies which said you had to go to international waters for permission to operate a casino on board, so they stopped it. I really hope India starts these cruises again. One cruise that remains fresh in my mind is the one I took from Denmark to Norway. I also took a cruise to Alaska from Vancouver when the ship went right up to the edge of icebergs. You could see the ice breaking and falling into the water. It was an experience I can never forget. I have also been on the then largest ship in the world, Harmony of the Sea, a Caribbean cruise ship 24 storeys high. It had around 10,000 people on board. It was a 10-day cruise and the vessel was so large that it almost felt like we were on land. It did not feel like we were moving at all.