There are so many different reasons to love travel. I love the fact that travel allows me to take a break from the everyday routine. It allows me to take time off to just relax and unwind. When it comes to travel, my first preference is always a location close to the beach or the mountains. India has lots of beautiful, scenic locations so it's not too difficult to plan weekend getaways near the beach or mountainside. What travel also allows me to do is meet new people, learn about new cultures around the world and understand best work practices. As an entrepreneur, there is a lot I learn from my travels to different countries. In the retail space, I observe how in-store experiences differ from country to country and brand to brand. For example, one of the brands I admire for their fantastic store design and customer experience is Abercrombie & Fitch.
A RIVERSIDE ADVENTURE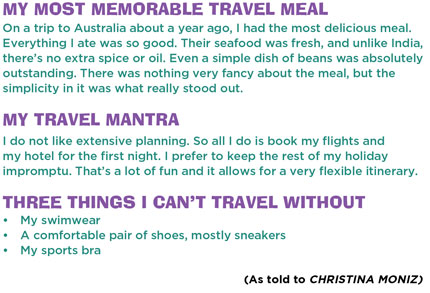 I have been fortunate to travel to many beautiful places around the world, too many places to recount. There is one recent trip that was really special though – it was a trip to Rishikesh. My husband and I run a school together called Rishi Gurukulam, and we decided to take a group of about 30 kids from the school along on this adventure. We usually do these trips with the school kids regularly – we enjoy these getaways as much as the children. This ten day trip combined all my favourite things, from travel and adventure to fitness and white water rafting. There was something really invigorating about the fresh air of the mountains, and in basking near the beauty of the Rishikesh river. I have travelled to Switzerland several times, but the joy and freedom I found on this trip is something I have not experienced before. It was an experience I will never forget. The kids had a great time too. We travelled by train, and stayed in dormitories, so that gave the kids a little bit of an adventure.
DHABA TAKE-OVER
On this trip, we carried a lot of food, mostly vegetables like carrots and tomatoes. So we would take over a dhaba in the evenings, and cook food for everyone. The dhabas were only too glad because they are usually managed by one or two people, so it's a good thing when someone else volunteers to cook. I have to say that the meals we would cook in the dhabas were the most delicious. We would make food like dal khichdi or a mixed vegetable preparation, and combine that with whatever local food the dhaba had to offer. Those meals would taste like heaven after a day in the cold river water. Otherwise, we would just have other easy to carry stuff like bread, butter, jam and stuff you can eat while on the move. We returned from that trip with such great memories of rafting, travelling and cooking together. This was a really memorable trip, but the kids just made it that much more special.