COMBINING TRAVEL FOR WORK WITH LEISURE
Travel is extremely important for us as an organization, because as an ad platform across seven countries, it is important to get an understanding of various cultures and ecosystems. My travels to these different markets enable me to get a clearer idea of how people work in different regions, adopt their best practices and create a better organizational culture. Understanding cultures has also helped me develop certain virtues like patience, because everyone doesn't work the way we do here in India. So for example, in Indonesia, you cannot put pressure on people to get your work done. So you are forced to adapt and make yourself acceptable to the people in that country. Most of my travel is for work, but wherever possible, I make time for leisure on these trips, to learn more about the place, the people, the culture and the food. I travel close to 15 days a month, so on an average I visit two countries every month. Most of my trips are to the countries we have offices in – Vietnam, Thailand, Indonesia, Japan, China, the Philippines and Israel. Before POKKT, when I was still with Reliance Entertainment, my favourite city in the world used to be San Francisco. It is the mecca of tech entrepreneurship, with a unique vibe, energy and buzz. However, in the recent past, Tel Aviv and Tokyo have completely blown my mind, for a variety of reasons.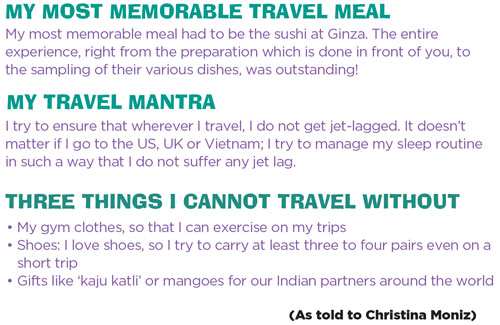 THE MARRIAGE OF TRADITION AND MODERNITY IN TEL AVIV
Tel Aviv has to be one of the most fascinating cities I have ever seen. I was intrigued by how the Jewish people have retained age-old traditions, while still embracing modernity and innovation. They are an extremely close knit community and are quite protective of each other. Perhaps this also has to do with the fact that Tel Aviv has traditionally been a region of conflict. There is a palpable pride and aggression in their nature; yet they offer much warmth and hospitality at the same time. I don't think I have encountered a culture like this ever before. The city also enthralls you with its rich history, culture and religion. After all, this is the place held in reverence by three major world religions. While the entire city reflects that sanctity and history, the one thing I didn't expect was their amazing night life. The night life in Tel Aviv is as good as it gets!
There is one street in particular called Allenby, which is filled with music, night clubs, pubs and restaurants, bustling every night. The same street transforms into a quiet one in the morning, as people grab some breakfast and head home after a night of partying. On my trips to Tel Aviv, I also try to visit the old city of Jerusalem, which is always so serene and peaceful, saturated as it is in history and culture.
OF FISH MARKETS AND SUSHI IN TOKYO
Of all the major cities in the world, Tokyo is by far the best I have seen. It has an excellent infrastructure and a great public transport network. I have never seen a more complicated, yet simple metro anywhere else. Everything is so efficient and runs like clockwork in Tokyo. Much like the Jewish people, the Japanese too are wonderful – they are diligent and meticulous in everything they do. One of my favourite things about Tokyo is the food. There is this upmarket place called Ginza, where you can eat some of the best sushi. The restaurants in Ginza are top quality and the food is second to none. Another fascinating thing about Tokyo is their fish market in Tsukiji, perhaps the biggest fish market in the world. If you go there at dawn, you will find thousands of people - especially tourists, in that region. It's an incredible scene, one most tourists wouldn't want to miss.