The past week has been a grim one, in spite of the festive mood in the air. Allegations of grave sexual misconduct ranging from sexist remarks, bodyshaming to physical and sexual assaults – the second wave of the #MeToo movement born in the United States last year - against as many as six senior advertising industry executives and ad agency founders, besides well-known actors, film-makers and editors, made headlines and created an upheaval on social media. With more and more such revelations cropping up, shocking the entire industry, we set out to find out just how companies are addressing the issue, raising questions around safety at the workplace, action against the accused and support for survivors.
THE SECOND WAVE OF #METOO ERUPTS IN INDIA
In October 2017, The New York Times and The New Yorker came out with detailed investigative reports that spoke about hundreds of allegations of sexual and physical assault, rape and harassment against one of the most powerful names in Hollywood, producer Harvey Weinstein. What followed was the #MeToo campaign where women from across the world took to social media and shared their experiences, about the various degrees of sexual harassment they had faced.
Roughly a year later, India has become a part of this powerful movement, sparked by actor Tanushree Dutta's allegation that a well-known male actor had sexually harassed her on the sets of a movie in 2008. The movement really caught on with similar allegations by film-maker Vinta Nanda against a popular actor as well as freelance journalist Sandhya Menon's social media posts about sexual harassment by her former editors at DNA and Bangalore Mirror. They inspired many women to open up with a series of serious allegations of sexual misconduct, assault and harassment against men in power from different industries, mainly entertainment, media and advertising. Since then, Menon has been amplifying the stories of women from all over India, aided by a few more women journalists.
That the movement is gaining momentum is clear from the fact that some companies have taken immediate action - the Bureau Chief & Political Editor of Hindustan Times has been asked to step down from his position, the editor of the Hyderabad edition of Times of India has been sent on 'administrative leave' and the corporate communications head of Tata Motors too has been told to go on leave pending inquiry into the allegations. Popular comedy collective All India Bakchod (AIB) announced that two of its co-founders will be 'stepping away' from the daily workings of the organization after it emerged that one of the founders did not act upon allegations of sexual harassment against a comedian who was once associated with AIB, while the other cofounder has been accused of sexual misconduct. Following AIB's official statement, Star India's OTT platform Hotstar cancelled the production of the current season of 'On Air with AIB'. Also, a popular production house had to dissolve itself after one of the founding members was accused of molesting a woman.
Meanwhile, a former editor of DNA resigned from his honorary post at a US-based think-tank even as the movement took a political turn, when an editorturned-politician, a minister in the current Government, was accused by as many as six women of grave sexual misconduct, resulting in a call for him to be sacked.
WHAT THE INDUSTRY IS DOING ABOUT IT
With more and more allegations cropping up every day, the question being asked is – have organizations been doing enough to address sexual harassment at the workplace? We reached out to some of the prominent media organizations, creative and media agencies to understand the steps they are taking internally to provide a safer environment for their employees.
Dentsu Aegis Network had enforced a Women's Council at DAN India in 2016, led by Rajni Menon, CEO, Carat India and other senior women leaders. Speaking about the steps that the network takes, Sunil Seth, Head HR Business Partner, Dentsu Aegis Network South Asia says, "We have an Internal Complaints Committee (ICC) as per the 'Prevention of Sexual Harassment' guidelines of setting up one ICC per location per legal entity. This was further strengthened by enforcing a Women's Council at DAN India. DAN was one of the first organizations to take such an initiative. Members of the committee are senior members of the organization with equal representation to avoid any gender bias and supported by an external legal counsel, a subject matter expert in the field of handling harassment issues at the workplace."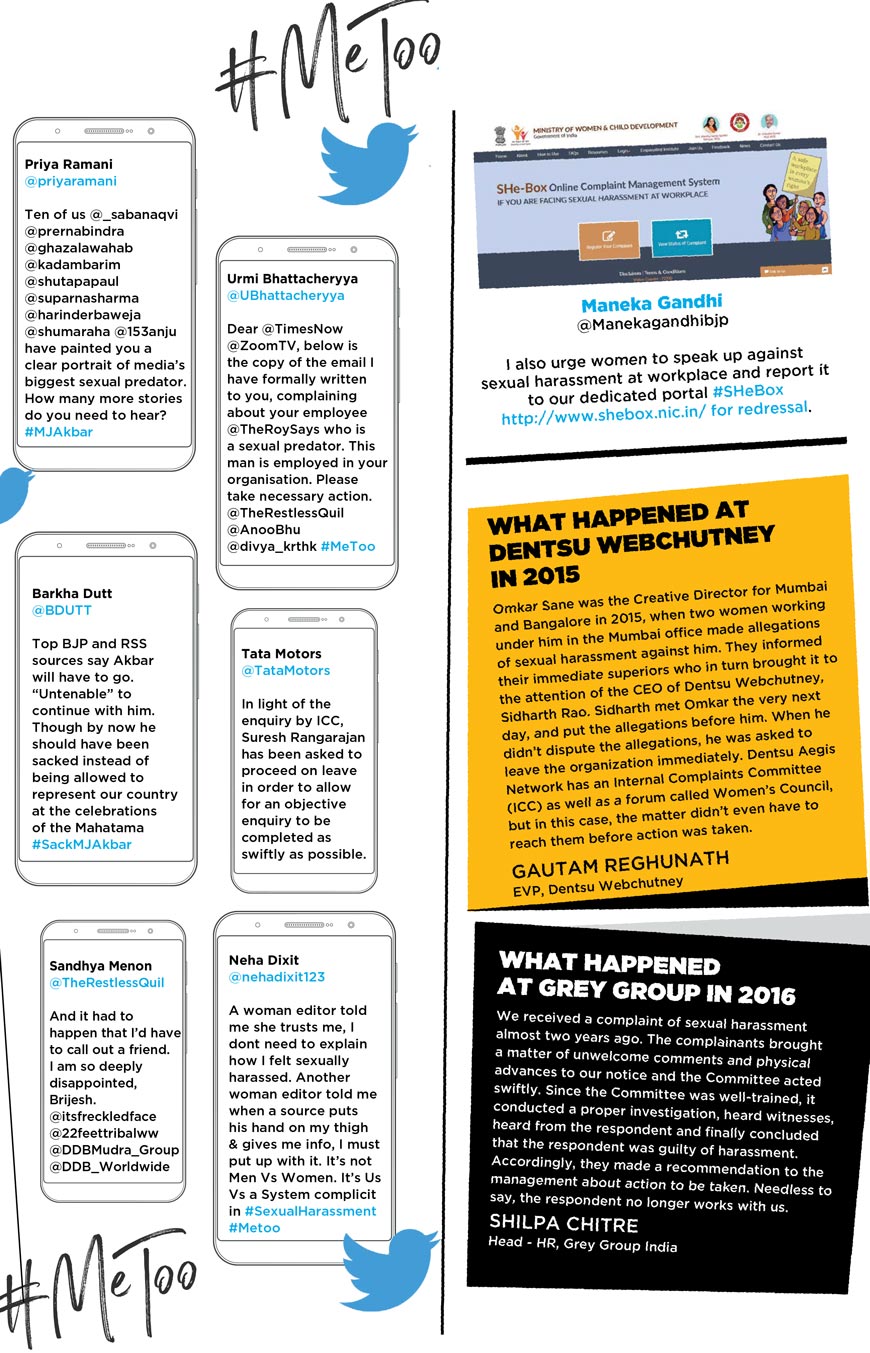 Seth further states that the members of the committee are also provided training to be able to conduct investigation holistically within the framework of the Act. He says, "Employees are made aware during induction of new joinees, through online training modules mandatory for all employees to go through once a year, as well as through display of posters and other communication materials in the office from time to time. We carry out a complete campaign encouraging people to complete the online course which details out the elements of behaviour which can constitute harassment and to re-emphasize, it is coupled with a situational quiz at the end of every module."
For many, having an open and free environment where employees are encouraged to talk about any kind of issues they are facing is important. Anita Nayyar, CEO - India & South Asia, Havas Media Group and CEO, Havas Group, North India, says, "We have taken a lot of measures internally to ensure the safety of our women staff. For example, while travelling back late from office, they are escorted home in an office car. There are also open house forums for them to discuss issues, if any. HR is constantly talking to women employees for continuous feedback to take corrective actions, if required. We also have a sexual harassment committee mandatory for all organizations. I am personally accessible all the time."
Agreeing with Nayyar, Kunal Jeswani, Chief Executive Officer, India, Ogilvy stresses on the need for organizations to make the work environment conducive for people to come forth with their experiences and voice their concerns. He says, "Offenders thrive on the idea that they are untouchable or that people will not speak up. The more we systemically encourage people to speak up in the face of harassment and the more we demonstrate that action will be taken, the better our chances of preventing harassment."
However, is there really a way to prevent one employee from being harassed by another in a large organizational set-up? Is it possible, practically, to keep a check on such incidents? Listing a few ways he thinks it is possible to keep a check, Jeswani says, "There are preventive measures an organization can take: (a) Open communication that the company has zero tolerance for sexual harassment of any kind; (b) Organizationwide sensitization programmes, clearly articulating what constitutes unacceptable behaviour, and why; (c) Clarity on how an employee can make a complaint; (d) Demonstrative, swift and fair action on complaints; (e) Encouraging people to discuss issues, building an open culture where people begin to feel the freedom to speak up."
The ad industry was first called out by a woman who wrote a blog on Medium speaking about her experience at a digital agency where sexualizing women and bullying people was the order of the day. So, building an environment where one would not tolerate behaviour like this and call out the wrong-doers, is an effective way of tackling harassment, says Michelle Suradkar, Group Chief Human Resources Officer at MullenLowe Lintas Group. She says, "Prevention of such incidents within an organization is possible to an extent. It depends upon the culture you create and the behaviour you are willing to tolerate. If you create a work culture where disrespect is called out, where bullying and intimidation are tackled immediately with visible consequences, everyone is aware that any form of abuse – whether physical or verbal, will be penalized. This greatly reduces the chances of anyone misbehaving."
Speaking about the policies against sexual harassment at Sony Pictures Networks India, NP Singh, MD & CEO of SPN India says, "At SPN India, we have a robust anti-sexual harassment policy in place that ensures zero tolerance against any form of sexual harassment. We have an Internal Complaints Committee headed by a senior woman executive with a majority of women members. Sensitizing employees on what constitutes sexual harassment, ways to deal with it and the redressal mechanism in place, is a continuous exercise, deployed effectively throughout the organization by the ICC and women champions."
While most large organizations have committees in place to deal with sexual misconduct at the workplace, they also invest in sensitizing programmes and training sessions, to keep the conversation going. Prabal Pratap Singh, Managing Editor, News18 India says, "We have a committee that looks into these matters. Our staff is sensitized about the law as we have a continuous training programme. All the juniors and seniors are part of this programme. In the last two years, I have attended three such programmes, some of my team members have even attended six. In light of the #MeToo campaign, I am personally interacting with my colleagues and asking them to be very careful about what they say, how they behave and how they conduct themselves."
Changing the dynamics of the industry by having more women in leadership positions could also help in bringing about a change, feels Rohit Ohri, Group Chairman & CEO, FCB India. He says, "It's important for people to see how we respect each other and behave with each other in public spaces. Creating a culture of openness, where there is no fear of consequences, encourages people to come out and talk quicker than they otherwise would. One does not need to go to just the HR to talk about these things. Our Delhi office is headed by a woman, and our CCO and Head of Digital are women too. We believe having more women in key positions is one of the best remedies, because then it sets the tone of an organization which ceases to remain just a boys' club."
THE #METOO IMPACT: AN INFLECTION POINT
Speaking about the collective responsibility of the industry, Shilpa Chitre, Head - HR, Grey Group India says, "The camaraderie and friendliness in advertising has sometimes been misused by individuals to maintain no boundaries and to cross the lines of decency. However, it's not only our industry - from politics to journalism, from the judiciary to artistes, people in every sphere are coming out with their stories and experiences. It is overwhelming, painful and sad, but it's a conversation that was waiting to happen. #MeToo is a genuine movement in the sense that it is spreading on its own with no external drivers. It has triggered conversations in workplaces and homes about what's okay and what's not, what's banter and what's not, what you can hear in the women's whisper network and what can be now declared openly and publicly. Some are joking about it, some find it a case of over-reactions fuelled by attention, and some are still dismissive of the stories they hear. And yet, I believe this is the inflection point which will compel a more conscious and deliberate rethinking of sensibilities. As an industry, I don't think we will be any less liberal, but we will certainly be more respectful and sensitive."
Talking about how a movement like #MeToo could go a long way in changing the way different industries work while also giving a voice to victims, Pratap Bose, Co-Founder, The Social Street, says, "The #MeToo movement is a revolutionary one and will only gain more intensity in coming times. We now see a positive shift in the tone of seriousness accorded to such cases. We have read about women who have been waiting for years, perhaps even decades, for a movement of this magnitude to arise. But I also hope there is responsible reporting of cases of wrong-doing and no misuse of such an important and crucial platform. So, I look forward to this movement bringing about a constructive impact and increased accountability at workplaces across industries to provide a safe working environment for all."
THE OTHER SIDE OF THE #METOO MOVEMENT
For years, people from the advertising industry have been looked upon as the cool crop, that encourages open dialogue, mingling and friendly relationships between men and women. Most organizations follow an open culture where bosses don't sit inside ivory towers but are easily approachable. However, with a movement like #MeToo gaining momentum, will the face of the industry slowly change?
Many feel a movement like #MeToo might slowly curtail this inherent openness among people in the industry. Sudhir Nair, Founder and Director, 21n78e shares his concern around this. "Advertising is a place of equal opportunities. If you look around, you will see an equal number of women at the helm and all agencies have a healthy male-female ratio. The industry has always been very liberal. Having said that, the same liberal quality has become a bone of contention. So new lines are being drawn and there is a little uneasiness that you can sense. The #MeToo movement has thrown up a lot of issues and questions. With the wrongs, the rights have also taken a beating. In an industry where any kind of language was never taken literally, now everything you say will be judged. The casualness that existed and makes a place vibrant will certainly be lost to some degree. I wish it never had to reach this stage," Nair says.
In the midst of it all, some have raised the question - what if even one of the allegations is false? Would we not have done injustice by clubbing all allegations in the same bracket? Many are also raising concern about the trend of trial by media and about how tagging someone as a harasser without first carrying out a proper investigation could be unfair, especially if some of those accusations turned out to be untrue later. "We are perhaps the only industry that allows a healthy and open relationship culture between men and women, unlike sectors like banks, finance companies or even marketing organizations. Today, we have men and boys worried about even talking to women. It will go against the healthy ways of working. That's why I feel an industry body should be formed and announced with a helpline. Not Twitter massacre. To me, even if one case turns out to be a wrong allegation, we would have done huge injustice to all," says a senior woman leader of the industry, who does not wish to be named.
TWO SURVIVORS SPEAK
The world is debating whether #MeToo is a step in the right direction, making us face head-on the magnitude of the problem owing to sexual harassment at workplaces, or if it is a double-edged sword wherein allegations can be made without any proof to defame anybody. While working on this cover story, we encountered two victims who neither wanted to be named nor wished to name the people who wronged them. They only wanted to explain just how bad it gets for a person who has been assaulted, how it temporarily destroys their careers and why organizations should have a stringent check to keep such sexual predators at bay. Hear it from them here.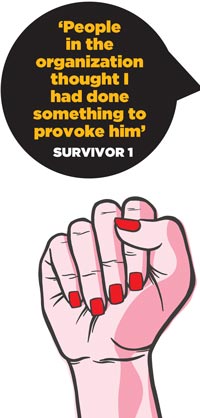 It happened early this year, while I was working with the biggest advertising agency in the country and it has taken me a lot of courage to speak about this. This man was my immediate supervisor and I reported to him for over a year. He was very touchy-feely, he would put his hands on my jeans, you know those ripped jeans which have torn patches. He would insert his finger inside, thinking it very cool and friendly. He used dirty, really filthy, lewd language. And I just didn't know how to react, especially as he was my immediate boss. One day, he even declared that if I wanted to be in his team, I had to get used to it. I would cry; I was hardly a senior in the system and I was afraid I would lose my job if I said something against him. Another colleague of mine had an inkling about my plight and she encouraged me to speak about it. Eventually, I did manage to speak to the committee in the agency about it. I didn't know what I wanted then, but yes, it was important for me to talk about it because I was getting harassed, I was not able to work, I just didn't know how to go about it. The agency formed a committee and within a week's time, he was asked to leave. Later on, I found out that this was not the first incident where there had been a complaint about him, he had been let off with a warning once before in the same organization. So, that was also disturbing. Had he been thrown out back then, I wouldn't have had to suffer all of this. It was scarring. I had to take counselling sessions for months after he left. I heard that he's managed to get a very senior position at a small digital agency, where probably people don't even know about his history. I'm glad that the organization took a step by asking him to leave immediately. However, there was this negativity around me - while no one really spelt it out, it was as if people in that organization thought I had done something to provoke him, because of which he had acted like that. I started feeling that the ad industry was dirty, unsafe. People in the fraternity would just laugh and make fun of the incident without realizing the sensitivity of such an issue. That made me feel even worse. I feel better and safe today, having left advertising. My only intent in sharing this is that I feel responsible about ensuring that no one else suffers like I did because of lack of awareness.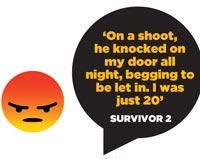 I was a 20-year-old copy trainee when this happened and the man in question was my Copy Head at one of India's largest advertising agencies. He took me under his wing to 'mentor' me, insisted I stay back for high level briefings and come along with him for client meetings. Made me believe that without him, I would fail in my career. Our agency was famous for its weekend parties where everyone got drunk and danced. I went for one and he forced me to sit next to him and told me I was too pretty to mingle with the other 'bastards'. I believed him and didn't realize how his protective vibe was just a garb to win over my trust. A few months later, my script was approved and I had to go for the film shoot to Mumbai. He insisted I needed supervision. We were staying at the guest house in separate rooms. I went to the room early around 9.30pm and locked the door. He was out, returned drunk and knocked on my door the whole night begging to be let in to make sure I was alright. Too scared, I pretended to be asleep. The next week, he took me out for a drink to a bar after work to celebrate my first ad film. I was so young and so naive, he made me believe that he was my protector, well-wisher and that I was this beautiful innocent girl he had to protect. He did it for 3-4 months, even confided in me that his wife didn't understand him. And all this while, getting closer and closer, sometimes holding my hand, sometimes caressing my face. And then when another script was okayed and we flew to Bangalore for the shoot, he insisted on escorting me to my room and ended up having sex. He told me I needed him to protect me. I don't know if I should be angry with him or myself for not knowing his game. Sex was terrible. The next month in office was hell. He would not let me talk to other guys in the office. If my friends called, he would not give their messages to me. I could not do anything without his permission. My mother and sister started getting suspicious about him and told me they wanted to speak with him. I told him and he freaked out, called me all kinds of names and said he was scared his wife would find out. I quit the agency soon after. And I heard that he had used my films on his portfolio saying they were his ideas. He too left, became Creative Director at another hot agency, having completely manipulated a 20-year-old girl. I disconnected with him after that. I believe he did the same thing with other girls as well, especially the sheltered, naive ones like me. Another guy who harassed me was this cool Account Director who would go around body-shaming the girls, making lewd comments and thinking he was some kind of Don Juan. At one of the parties, I was just coming out of the washroom when he grabbed me and gave me a French kiss. It was the most repulsive experience. I pulled away. Thank God that I left the agency soon after. I believe he even became the head of an agency before leaving India. All this is a long time ago. But we never forget. The worst feeling is the total manipulation of power. Such men who do this care only for their careers and their penises. Today, with this #MeToo movement, I want to get it off my chest. This happened a long time ago, and I was so young then. Today's girls are much more confident and sharp when it comes to the games some men play. I do not wish to name and shame them. Nor do I want my identity revealed. May they face their own karma someday.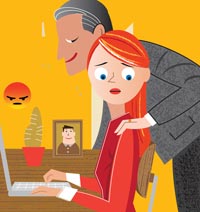 WHAT IS SEXUAL HARASSMENT?
• Sexual Harassment includes any one or more of the following unwelcome acts or behaviour (whether directly or by implication), as:
(a)
physical contacts and advances. For e.g., unwelcome grabbing or deliberately touching or brushing against any part of the body of another person and the like; or
(b)
a demand or request for sexual favours. For e.g., forcing a subordinate to provide sexual favours by promising promotion, pay increases or an easier work life; or
(c)
making sexually coloured remarks. For e.g., questioning about anyone's sex life, making sexual innuendos or gender-based sexist remarks or jokes which are sexually coloured; or
(d)
showing pornography. For e.g., displaying of pornographic pictures, cartoons or sayings in the workplace; or
(e)
any other unwelcome physical, verbal or non-verbal conduct of sexual nature (whether by words, gestures or actions). Some examples are, forcing a woman to drink or dance against her wishes, sharing or emailing sexist jokes or making sexist remarks. The act or conduct must be 'unwelcome' and of a sexual nature in order to constitute sexual harassment. It is the impact and effect the conduct has on the woman that will define the behavior as sexual harassment.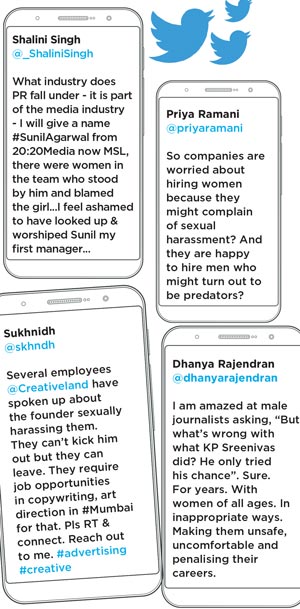 • The following circumstances, among other circumstances, if it occurs or in present in relation to or connected with any act or behavior of sexual harassment may amount to sexual harassment:
(a) implied or explicit promise of preferential treatment in her employment; or
(b) implied or explicit threat of detrimental treatment in her employment; or
(c) implied or explicit threat about her present or future employment status; or
(d) interference with her work or creating an intimidating or offensive or hostile work environment for her; or
(e) humiliating treatment like to affect her health or safety.
• Sexual harassment of women is also a criminal offence.
(As mentioned on Star India's website)
AN OPEN LETTERDear Women of Indian Advertising, Design & Media

We have spent the last few days in pain.
After reading horrifying accounts of harassment in our industry, we've questioned ourselves and each other. We've felt sad, angry and violated at the same time.
Any form of harassment is not okay. Period. Nobody should be able to use their power of authority or gender to discriminate, abuse or harass anyone. As an industry we cannot move forward till the time we can make it a safe space for everybody.
We are aware that each of our companies has policies and practices in place. However, we do feel it will only help to have a platform that is agency/ network agnostic, easily accessible, backed by women leaders, with a singular focus on addressing harassment across the Indian Advertising, Design & Media industry, at both network and independent agencies. We need to work towards it as an industry.
We realize our leadership positions come with immense responsibility and therefore can help trigger a change, start a conversation and help bring the talk on the table.
We appreciate the courage of those of you who have come forward.
We also call upon men in leadership positions to help us do this so that both women and men see a bright future here.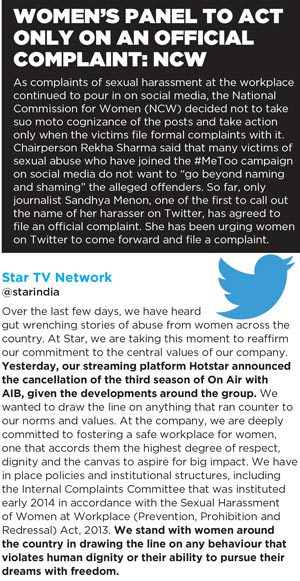 We love this business as much as you do and we will continue working to make our industry better and responsible, where we can hold our work and our standards high.
We stand with you.
Signed: The Collective
Tista Sen,
Regional Creative Director, JWT
Kainaz Karmakar,
Chief Creative Officer, Ogilvy West
Swati Bhattacharya,
Chief Creative Officer, FCB Ulka
Deepa Geethakrishnan,
National Creative Director, Lowe Lintas
Delna Sethna, CCO,
Law & Kenneth Saatchi & Saatchi
Ashwini Deshpande,
Co-founder Director, Elephant Design
Malvika Mehra,
Founder & Creative Director, Tomorrow Creative Lab
Preeti Vyas,
Chairwoman & CCO, Vyas Giannetti Creative
Shagun Seda
, Executive Creative Director, DDB Mudra
Pallavi Chakravarti,
Executive Creative Director, Taproot Dentsu
Lulu Raghavan,
Managing Director, Landor
Alpana Parida,
Managing Director, DY Works
WHAT STEPS ARE COMPANIES TAKING?
In the advertising industry, there are allegations of sexual misconduct against the founders of Creativeland Asia, Dentsu's Happy mcgarrybowen and Famous Innovations, the Chief Creative Technologist at DDB Mudra Group, an ECD at Publicis and Omkar Sane of Dentsu Webchutney, who the organization says was sacked for sexual misconduct in 2015. IMPACT spoke to CEOs & HR Heads of media companies and advertising agencies to find out how seriously they are taking the #MeToo movement and what steps they have in mind to make their organizations a safer workplace. While some agreed to comment, others preferred to send in a standard 'company spokesperson' statement.

We have taken a lot of measures internally to ensure the safety of women staff, right from providing them safety while traveling back late from office wherein they are escorted home in an office car. There are open house forums for them to discuss issues, if any. HR is constantly talking to women employees for continuous feedback to take corrective actions, if required. We also have a Sexual Harassment Committee mandatory for all organizations. I am personally accessible all the time, anytime.
ANITA NAYYAR
CEO - India & South Asia, Havas Media Group & CEO, Havas Group, North India

We have an absolute zero tolerance for cases of sexual harassment. I personally am absolutely inflexible on this. FCB globally has stood firm on supporting women at the workplace. At times companies do become a boys' club at a very senior level, which we want to break. In the past years, even we have had some allegations of sexual harassment, but if our committee, which also includes some members from outside FCB, decides that the person is guilty, that person has been invariably shown the door.
ROHIT OHRI
Group Chairman & CEO, FCB India

We have a committee that looks into these matters. Our staff is sensitized about the law as we have a continuous training programme. In the past two years, I have attended three such programmes, some of my team members have even attended six. In the light of the #MeToo campaign, I have been personally interacting with my colleagues and asking them to be very careful about what they say, how they behave and how they conduct themselves.
PRABAL PRATAP SINGH
Managing Editor, News18India

Workplace harassment is a real problem. The key areas of focus for Ogilvy are Safety, Support and Sensitization. We are doing everything we can to build a healthy work environment - this includes formal, secure, openly communicated channels for any employee to talk about harassment and register a complaint; and a clear, documented system to respond to complaints and investigate them fairly. HR takes a different approach when employees do not wish to file a formal complaint but still want an issue dealt with. The focus is on listening, reassurance, clear communication with both parties involved, investigation followed by swift, fair and appropriate action.
KUNAL JESWANI
Chief Executive Officer, India, Ogilvy

Sexual harassment is never okay. No incident is big or small. We constituted a Sexual Harassment Prevention committee (adhering to Vishakha guidelines) to address and assist victims in cases of misconduct right from the beginning. Our policy is designed to create an equitable culture to protect both women as well as men in cases of sexual harassment within the organization. However we haven't had any instances of complaints raised against any male or female colleagues in the organization.
PRATAP BOSE
Co-Founder, The Social Street

We had a round of discussion with our team a few weeks back to try and draw a line for interactions, verbal or physical. Without being judgmental, we will also sensitize our teams on what constitutes harassment and what is not. Agency work cultures are meant to be quite open. However, what is normal for some may not be so for others. Our dos and don'ts will be gender neutral. We also plan to make these into a policy.
SUDHIR NAIR
Founder and Director, 21n78e
The industry has always been liberal to the point of being seen as too permissive, but the last few years have seen a lot more professionalism. A couple of instances of inappropriate comments were brought to our notice, but we have a robust mechanism in place to deal with them and all concerned parties were spoken to and appropriate stringent disciplinary action was taken. All senior managers have to complete a mandatory programme on preventing sexual harassment at the workplace.
MICHELLE SURADKAR
Group CHRO, MullenLowe Lintas Group

Grey's policy on Prevention of Sexual Harassment at the Workplace is gender-neutral and it is shared with all employees. We also have a trained committee with a mandate to prevent sexual harassment, as well as handle any complaints that are brought to it. We recently concluded an awareness quiz on our policy across our offices; the results show that our employees and associates are very well aware of our policy as well as key elements of the Act.
SHILPA CHITRE
Head - HR, GREY Group India

At SPN India, we have a robust anti-sexual harassment policy in place that ensures zero tolerance against any form of sexual harassment. We have an Internal Complaints Committee headed by a senior woman executive with a majority of women members. Sensitizing employees on what constitutes sexual harassment, ways to deal with it and the redressal mechanism in place, is a continuous exercise, deployed effectively throughout the organization by the ICC and women champions.
NP SINGH
MD & CEO, Sony Pictures Networks India

We have zero tolerance for harassment of any kind and take pro-active measures to help shape inclusive and safe workplaces. This includes WPP's global, confidential 'Right to Speak' hotline, operated by a third-party vendor so employees have a way to report concerns anonymously, and the POSH committee in India, as well as many other global and local initiatives.
A SPOKESPERSON
GroupM India
At the DDB Mudra Group, in compliance with Indian law, we have a clearly defined policy of prevention of sexual harassment at the workplace; we have a duly constituted Internal Committee (IC) including a third party which investigates any complaints received by it and its recommendations are duly implemented. We periodically engage in awareness-building, gender sensitization and prevention of sexual harassment at workplace trainings for all employees.
A SPOKESPERSON
DDB Mudra Group
We are compliant with the Prevention of Sexual Harassment of Women at Workplace Act 2013 and we have set up an Internal Committee in accordance with the rules of the Act. The constitution and functioning of the Committee is per the mandate of the Act. As a responsible corporate citizen, we are aware of our legal duties and are compliant with all the laws of the land.
A SPOKESPERSON
Viacom18 Media Pvt. Ltd.
We have an Internal Complaints Committee as per The Sexual Harassment of Women at Workplace (Prevention, Prohibition and Redressal) Act 2013 – PoSH Act 2013. We conduct regular workshops on recognising and resolving issues of sexual harassment at work. These workshops are conducted across our Groupe companies covering all our offices in India. Our employees can speak to senior management or the HR team freely and openly. They can raise any questions or concerns around any kind of workplace misconduct.
A SPOKESPERSON
Publicis Groupe