Meet Wendy Clark, Global President and CEO, DDB Worldwide, and you are bound to be struck by the aura of dynamism she exudes, combined with a rare kind of warmth. One of the very few female CEOs of a global creative agency network, Clark took on the chief executive mantle from predecessor Chuck Brymer early last year, and since then, she has been very clear that creativity is the most powerful force in the agency's business across the 100+ countries that it operates in. At a time when many legacy creative agencies are restructuring themselves to align with the digital age (example: WPP's Y&R merging with VML to form VMLY&R; J. Walter Thompson and Wunderman now merged into Wunderman Thompson) DDB Worldwide actually went back to the core values of creativity and humanity endorsed by its founders with the recent revamp of its identity. "I am not confused about the importance and strength of a creative manifestation for our brand. If you are the agency with Bill Bernbach in your name, you naturally have an orientation around and potential for creativity. That is our advantage," Clark insists.
Clark was in the country last week, her second visit to India since she took on the global role. She has been working to bring in a global point of view from a strategy and creative perspective that was earlier announced in Miami, and hence has many more countries to visit over the next three months. "Now I am really going around the world to key markets to make sure that we are inculcating that strategic point of view, the frameworks, the tools, and then the resultant creativity is well under way," Clark says, singling out the agency's legacy of creativity in India. Under the leadership of Aditya Kanthy, CEO and MD, DDB Mudra Group, Clark is confident that India will have the right talent and guidance to deliver to clients incremental sources of growth with speed and agility in communication at an efficient price.
FROM LEGACY TO FLEX
Talking about DDB's new visual identity unveiled while commemorating its 70th anniversary earlier this year, Clark points out that the new identity is testament to the fact that all great brands have one foot in their past and one in the future. "Our fundamental belief is that creativity is the most powerful force in business. That's what we wanted to manifest in our identity and in our visual identity," she says. "We are in a time when other agencies are almost running from their past or disrespecting their past, and not seeing that as a value. At the end of the day, I believe that since Bill Bernbach has been one of the agency's architects, it's more important to actually put a focus back on the Bernbach in our name. I am very clear on where our advantage lies, and that is in the power of creativity."
DDB Worldwide was named the No. 2 network at Cannes this year, and creativity will continue to be the core value for the agency, states Clark. Having spent a good part of her career as a marketer with brands like Coca-Cola and AT&T gives Clark the benefit of viewing situations and communication from an advertiser's standpoint. It was with this perspective that she created the DDB Flex philosophy, based on using cross-agency teams. As a marketer, Clark often felt frustrated looking for agencies with diverse capabilities that weren't available in the marketplace. "When we talk to our clients, there are three things on their minds, and this is pretty consistent across every client. They are all looking for new, incremental sources of growth, they are looking for speed and efficiency. They want all these things at a great price. The Flex model really seeks to bring together all the capabilities a client needs, which are usually diverse. The model comes together in different ways depending on the brand and the consumer being targeted," she elaborates. Clark also adds that an agency partner today must be flexible and should be able to pivot different capabilities since that is today the client mandate across markets. Using the DDB Flex model, the agency has demonstrated its ability to meet client demands by fluidly connecting capabilities with speed and efficiency, Clark explains.
FINDING THE BEST TALENT
On the global front, the recent promotion of Ari Weiss as the global CCO for DDB Worldwide and addition of ex-Leo Burnett CCO Britt Nolan as North America Head has beefed up creative power. Speaking of her expectations from Weiss, Clark adds, "Ari's appointment takes us back to our conversation on Bill Bernbach. An agency that bears Bill Bernbach's name must always have a creative thought leader and it must put creativity above all deliverables because that is our very ethos. At the very core, we believe that creativity is the most powerful force of business."
Finding the right talent is a challenge in a changing ecosystem, Clark admits, adding that every challenge brings with it great opportunities. As an agency that has been in existence for seven decades, she believes that DDB Worldwide can navigate changes and shifts in the marketplace whether it is client demands or changing consumer needs. "What are the challenges I see? There is the challenge to move nimbly and flexibly that is important, to move with speed, to be able to create those efficiencies in our operations but still hold an incredible standard of work. If you have empowered leadership teams, like you see here in India, where we have a really vibrant, multi-dimensional leadership team that comes from publishing, digital and marketer backgrounds, you can navigate changes and shifts in the industry. You can either see challenges as oppressive or difficult, or as an incredible opportunity to reinvent and recreate the next iteration of this business. I take that as a wonderful privilege and gift," she says.
THE INDIA AGENDA
Clark is very emphatic that the India market, with 850-odd staff, is critical to the network. Part of her agenda on her recent visit to India was to meet with the agency's clients, specifically across the Mumbai and Bengaluru markets. "We have a lot of global relationships that manifest here from McDonald's to Johnson & Johnson, Volkswagen, Unilever and others. So, on the one hand we have got our global relationships that are important; on the other we have some wonderful local partnerships. I like the way that we are working. That's going to be instructive for the rest of the network too. In India, I see the opportunity of integrating our capabilities. We are also working on some very progressive brands. Obviously, I don't even need to talk about the potential of this country and the growth that the world sees," says Clark.
She terms the acquisition of 22Feet Tribal some years ago as a big positive for DDB, which continues to work really well for the agency. Another big positive for the agency from the India market is the learning it offers, notes Clark. "This is a billion plus population, and the ability for brands to work across a country as multi-dimensional and varied as this can be instructive for many markets around the world. There is a keen interest in what's going on in India, across the rest of the world, and certainly within our network," she adds.
The India agenda, of course, is an important part of Clark's wider global agenda. One of the things that she has worked on for the past year has been trying to assimilate learnings from what is going on across agencies in the network. She explains, "From there, what we were able to note was that we were operating in a way that often didn't take advantage of the global nature of our network. So we spent about six months creating a strategic point of view, which in turn could yield fantastic creative work. We were validated and gratified this year to be the No 2 network at Cannes, up from three last year."
CHAMPION OF GENDER PARITY
Clark has been a passionate advocate for gender equality, and a vocal member of the Time's Up Advertising movement whose mission is to drive new policies and tangible actions that address workplace discrimination, harassment and abuse. Clark was in fact a part of the 10-member steering committee of Time's Up until a controversy broke out about the participation of former Droga5 CCO Ted Royer in the DDB pitch for Volkswagen. That led Clark to step down from the steering committee, though she remained part of the larger group and movement. Clark put out a statement at the time saying, "Regrettably, I fell into a traditional paradigm of business first and given the choice again, I would do things differently. That was a mistake. The reckoning for past behaviour is not just for survivors of sexual harassment but for the whole industry which needs systemic change."
Meanwhile, Clark is determined to keep the fight for gender equality and equity going, one that she has been fighting for the duration of her career. While she carries a fair bit of weight in her role, for Clark the heavier weight is the one of bringing women forward in their careers. Supporting women and their success, she says, is perhaps one of the most fulfilling achievements in her career, that has seen her spectacular rise from receptionist in her first job to global CEO over 25 years.
Clark candidly shares a personal conversation with her children in order to make her point about the kind of work that still remains to be done in making workplaces safer for all and ensuring equal opportunities for both women and men. "I was recently reflecting about a conversation I had with my two daughters and my son. My three children have had the same schooling and yet quite honestly they look into a world where my son sees more opportunities than my daughters. And that feels wrong to me. So, my work across the duration of my career is unchanging. I will always work in service of gender equality and gender equity." That struggle is not easy as she poignantly adds, "I hope at the end of my career I will be able to say to them the time I spent away from you as a working mom was spent in service of creating more equity, more equality and more opportunity that felt fair and equal for you, no matter whether you are my daughter or my son."

DDB MUDRA GROUP'S MOST AWARDED CAMPAIGNS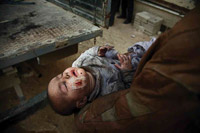 The 'Hashtags Don't Heal' campaign with Khalsa Aid, the UK-based NGO seeks to provide humanitarian aid in civil conflict zones and disaster areas around the world. It aims to move readers from arm-chair activism to make a real difference by supporting the efforts of Khalsa Aid through donations. This campaign was recognized with shortlists at the 2019 Cannes Lions.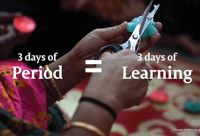 Project Free Period, an initiative by Stayfree India is a vocational training program, which converted three days of periods or non-working days for women in the sex trade into three days of learning. It is one of the most celebrated social pieces by any brand in India. Since its initiation in 2018, Project Free Period has been awarded at several prestigious forums across the world.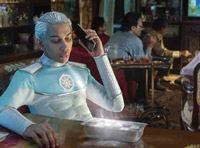 Superheroes, an IPL film for Hotstar has been recognized both, for the strength of its idea and the craft of it. The ad campaign shows Hotstar coming to the rescue of a motley crew of Indian superheroes helping them watch this year's IPL. Incidentally, Hotstar set the world record for live OTT viewership this IPL.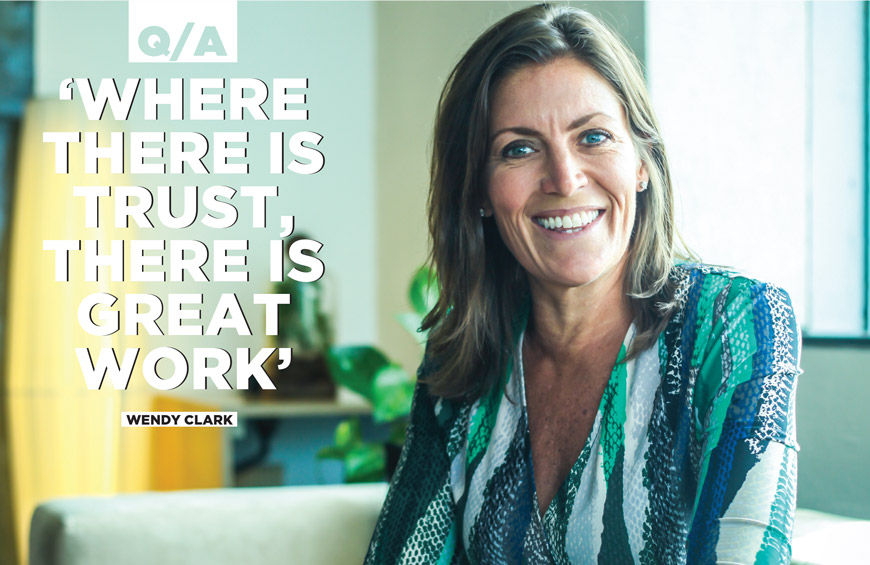 UP CLOSE AND PERSONAL WITH WENDY CLARK
'Never believe your own Press…'

When I was about 26, I was working with a telecom brand in the US and a female colleague who was about 15-20 years older than I was pulled me aside and said, 'You are going to do really well. You are talented, you are bright and you have got a lot of the right things going. I can see you are going to have a really great career, but I am going to give you one piece of advice. Never believe your own Press.' And she said, 'If you do, you potentially will limit how far you go because you stop working as hard.' I am still in touch with her today, and her words ring in my mind a lot.
'I hate writing bios…'
It's funny, but I hate writing bios because the bio is about everything you have done in the past and my focus is on everything that is yet to be done. And so when someone reads my bio, it kind of makes me uncomfortable because I don't focus on that, and I think today's headlines become yesterday's news tomorrow. So I have tried to constantly focus on people, what's written about or discussed or that sort of thing – some things are very nice but I try not to focus on those too much, and I really try to focus on what's left to be done and what's ahead of me.
'I'd want more hours in a day…'
If I had a magic wand, I would probably create more hours in the day. Like most people, I have a constraint on time. So, if I could change one thing, it will be the ability to have a few more hours in each day. That would probably work really well for me, though not necessarily for my team!
In a chat with IMPACT, Wendy Clark, Global President and CEO, DDB Worldwide talks about the key markets for the network, the insights she brings from her earlier role as a marketer and her mandate for DDB Mudra CEO & MD, Aditya Kanthy
Q]

Which are the top markets for DDB Worldwide? And where do you see the greatest potential for growth?
Our top markets are the US, the UK, Germany, Brazil and of course India and China. We also have great operations in Australia and New Zealand. India's growth has been great, really positive and will be validated by a lot of external reports. Still, we continue to see growth opportunities across the market. Regionally, both Latin America and North America are doing well. AMEA is also doing well. We are also seeing growth across the APAC markets.
Q]

What are the challenges in ensuring consistent performance across markets for DDB Worldwide?
The question suggests that we want markets to be consistent and homogenous. And we don't. Every market is very different. The capability and talent that we have in markets may vary. The clients obviously can vary. And in most cases, our global clients like J&J expect us to be different around the world based on the consumers they are engaging, their lines of business, and their specific needs. Our job is to actually create the value, the connectedness, the rapid talent and capability sharing across the network, but not have an expectation that it would be a cookie-cutter approach across markets around the world. That wouldn't be my expectation of the network. Our advantage is that we are deeply local, and that we understand the local market as well as or better than anyone there.
Q]

From a global perspective, what are the targets that you have set yourself?
We have growth targets in mind, and those are all very clear by market and by region. We also have a creative ambition, obviously to capitalize on our position as the Number 2 agency network at Cannes this year. There is a lot of work to do around the world, so we are very focused on continuing to have incredible creative output as a product. That creates an attraction both for people to come work with DDB and to recruit the best and brightest talent; also of course with our clients.
Q]

In the industry, the DDB Mudra Group is largely seen as a standalone - operating as an entity by itself - despite being a part of the Omnicom Media Group, unlike a BBDO or a TBWA, with a distinct Omnicom identity. What is your comment on that?
DDB is an important part of the Omnicom network. Personally, I have spent a fair amount of time connected to Omnicom. However, if there is a difference in this market, it may be that Mudra originally was a local agency and it has deep local roots that have grown into a more deliberate and greater prominence as we made the acquisition of 22feet Tribal. But, I don't think that you would hear from Omnicom at all that we are in any way disconnected. We are very connected into Omnicom and see it as an incredible marketplace advantage.
Q]
You have referred to your global CCO Ari Weiss as a 'creative firepower'. What are some of the things that the two of you have been talking about? And what is the typical conversation the two of you would have on a pitch day or before a big meeting?
I don't think you'd want to be in on that conversation! I actually think it's illustrative of the very best relationships, and Ari and I push each other a lot to create as good a strategy, as good a product as we can have. And that's what our clients expect from us. So, we are actually quite public about our relationships, especially internally where we want other people to be around us and see that great relationships allow for the nudging and the pushing and the challenging of one another. That's where we will get the best work. I always say that we need to have different opinions. If we all get in a room and have the same opinion, then I think we don't have the right people at the table. The benefit is when we all get to a table and we debate and we push each other, and you will see that very much expressed in my relationship with Ari. I believe he makes me a better CEO and I hope that I in turn make him a better chief creative officer. So, this is a very big responsibility for Ari and we have very big expectations. He follows in the shoes of some incredible creative talent at our network but you will never ever see us yield on that position. That is absolutely critical, because that's why we all come to work every day.
Q]

You left Coca Cola to join DDB in 2015, so you are the best person to tell us how the client-agency relationship has evolved. What has changed in the past few years?
I believe that our relationships are best when there is incredible trust. The question I usually get asked about the clients that are winning at Cannes is, how did they get there? How do you get to that great work, that award-winning work? What's behind that successful work is relationships really steeped in trust. There are legal problems, financial issues, numerous cancellations… yet there is an incredible trust between the agency and the client. And that unquestionably is at the core of where we have really strong agency-client relationships. So, I don't know if that's changed over time to be honest. When I was at Coke, the best work came from the places where we had the best relationships between agency and brand. Trust is one of those enduring truths. Obviously, today we have access to more data than we ever had. That makes for better creativity and better programmes where we can measure in real time, adjust in real time. While the tools available to us have changed, the enduring truth of trust has not changed. Where there is trust, there is great work.
Q]

What is the mandate for Aditya Kanthy? What are your expectations out of India?
The mandate for Aditya is to continue the great legacy that exists here for DDB, but also to make sure that we are ready for the future. That has to do with recruiting the right people and creating a wonderful leadership team; I have seen him do really great things in the last year. We have got new people here from the client side, from publishers, and also people with digital capabilities. I love the breadth of the talent that we are seeing here from the leadership perspective. Ultimately what we got to deliver on is what our clients want from us, which is new and incremental sources of growth. They want speed and agility in their marketing and their communication partners, and they want that at an efficient price. That is what Aditya will be focused on, along with the leadership team that he has recruited here. I really couldn't feel more confident about our prospects in India.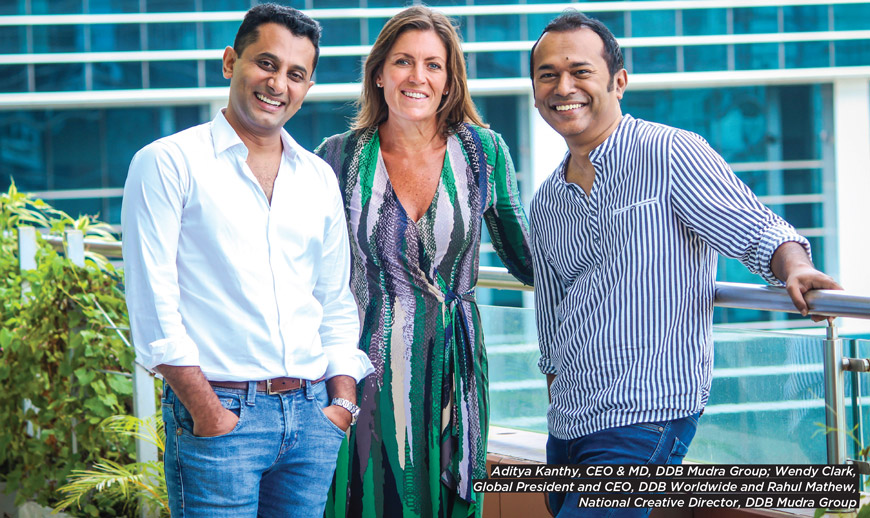 Aditya Kanthy
CEO & MD, DDB Mudra Group
The first half of 2019 has been really good so far for us. We're very happy with some of the work we have created for some of our biggest clients such as the campaign we did on Hotstar for IPL, for gender equality with Royal Challenge and for Volkswagen during the cricket World Cup. Our work on Stayfree with Project Free Period has been recognised two years in a row at Cannes and at various other award platforms. So we are feeling really positive about the direction our creative product is taking. We have also had some successful business wins such as McDonald's as well as Pepsi's 7UP and Mirinda last year. Our plan is designed to deliver double-digit growth across our businesses, consistently over the next five years and I believe we are on track to deliver this. We are also committed to delivering localised execution, an important emerging opportunity in the conversations we have with clients today. We are currently on a transformational journey, a process that has started inside the company covering its culture, capabilities and style of functioning. Our focus has clearly been on setting the foundation for a meaningful change.
Rahul Mathew
National Creative Director, DDB Mudra Group
One thing we are definitely clear about is that our work needs to have some kind of provocation, because that is when we can move people. When we move people, we create an emotional advantage for our brands. That's the way we want to work and it's exactly what we did with Project Free Period – it had a very provocative starting point. The need for creativity today is more than ever before. The way we work today has changed and it is seen in the kind of work we do, the talent we have and the brands we work with. Some of our latest work on Spotify has been really interesting. We did an online antakshari challenge with influencers to get them to start using our playlists. Then there is the Volkswagen Tiguan film 'For the Journeys Within', beautifully crafted with some fantastic imagery. There's a lot more going on and maybe a month down the line, I will have a lot more to share!