Q].

How has the year been shaping up for SAB TV? What would you list as the high points?
Everybody was a little apprehensive about the NTO regime after 25 long years of the industry working in a distribution-led pattern. This is the first time that the business has moved from B2B to B2C where the consumer is king, literally. I was very confident that Sony SAB would emerge as a very steady channel simply because it had its own set of viewers, its own following. Now, people have to decide what they want to buy. Sony SAB doesn't look like anyone, it doesn't sound like anyone. It doesn't have content like anyone. There are no 'me too' shows. Whatever we have - good, bad, ugly - is very unique to us. 'Me toos' will have very few takers in the new NTO reality. That's the way it's played out. So, in the last 16-17 weeks, which is April to now, we have only grown every week. My channel-share has grown from around 11.5% to 16.5% over the last five months, along with viewership growth of 45% when there is a category drop of 5%. Among markets, Delhi has grown like never before, doing 200 plus GRPs. MP has grown, Rajasthan has grown too.
Q].

What have been your challenges over the last couple of years?
The challenges were something that we tried to set right around 2-2.5 years back when we took over the brand. We were fighting the big perception battle about being a little fuddy-duddy in the way it looked, a channel focused towards a slightly older segment of audience, a channel which did not really look sharp enough, contemporary enough. Some of them were real, to be honest. In the last two years, we have completely shaken off all these traits. Today, the channel looks sharp. Our shows look top class. Our production values are second to none. We market as aggressively as everybody else does. Very importantly, we have broken this barrier of a channel recognized for a slightly older TG. Our biggest base of audience is in the 15 to 24 age group. It's that diverse. Shows like Tenali Rama, Aladdin, Taarak have completely broken this myth. Now, we cater to a very healthy young audience.

Q].

You just launched the brand proposition 'Khushiyon Waali Feeling' to convey the message that Sony SAB goes beyond just providing comedy content to focus on wholesome happiness. Could you please elaborate on that insight and how it relates to actual business results for brand Sony SAB?
There are a lot of case studies in the market in terms of how a perceived happy brand connects a lot more emotionally with the consumer. We inherited a happy and differentiated brand. Our task was to dig deeper and arrive at an insight in terms of what the brand experience means to the consumer. We needed to go and ask our consumers what exactly do they feel when they watch the brand. A lot of them said, "Humein bahut accha lagta hai, bahut khushi milti hai (We feel very nice, very happy)." That really made me deep dive into the whole thing and the insight happened. We spoke to people, jammed with Contract, our agency, and developed this insight that if one is truly happy, one tends to pass that happiness forward. Thus 'Khushiyon Wali Feeling' came into being.
Q].

Humour, and happy content have been the mainstay of Sony SAB for a long time. Why the divergence to genres like dramedy, horror comedy and fantasy?
At some point of time, we had to broaden the scope of our content. Comedy is probably the most difficult form of entertainment to produce on a daily basis, and to ensure quality. If we had to grow our universe of viewers, we had to get into the other forms, explore new things, be it sketch comedies, dramedies, black comedies… or anything else. The whole objective was to give our characters a longer arc.
Q].

What are the kind of advertisers that you're hoping to draw with the change in programming?
Just about everybody. We have seen a huge surge of advertising, not that we did not have it earlier, but my sense is that we will grow at least by around 35% this year.
Q].

How do you define the TG for Sony SAB, and could you give us an idea of the time spent by viewers on the channel?
We are very focused on the TG. The TG is gospel to us. And we are very clear that our core TG is male, female, 14 to 21 and male, female 31 to 40, AB, very clearly.
Q].

Why not the 21 to 31 age group?
Because that's the soap audience - 15 to 21 is the growing segment, and then 22 to 30 is largely the female soap viewer. While it used to be fairly low for us at some point of time, we are growing by leaps and bounds in that segment also. But, that's not our only focus area because we are not a soap channel. Anything that is 'me too' will be extinct sooner than later. So, this is our focus TG. Our time spent has seen a huge leap. We used to be around 120 odd minutes pre-NTO. We are today at 180-odd minutes. We are the market leaders in time spent.
Q].

Tarak Mehta ka Oolta Chashma is Sony SAB's landmark show. It is almost the brand. Why do you think it works, and how do you keep it going?
Taarak Mehta is what Rahul Dravid was to the Indian cricket team. His job was to hold one end up, and let everybody play around him. On a more serious note, today it's a blessing to have a show like Taarak. It's a blessing for any channel in the new NTO reality, if it has a legacy show. Taarak will be that glue that holds everything together.
Q].

It's a week since the launch of your digital-first show Bal Veer Returns – how has it fared? What is the viewership uptake? Have your efforts been rewarded by ratings?
We have done 'digital first' for the first time. Bal Veer Returns has taken the socks out of everything on SonyLIV in its first week. We have seen more than 3.5 million hits. Every episode has 15,000 likes. They have seen an increase in their subscription, and very interestingly 72% of their viewership is in the 18 to 24 age group.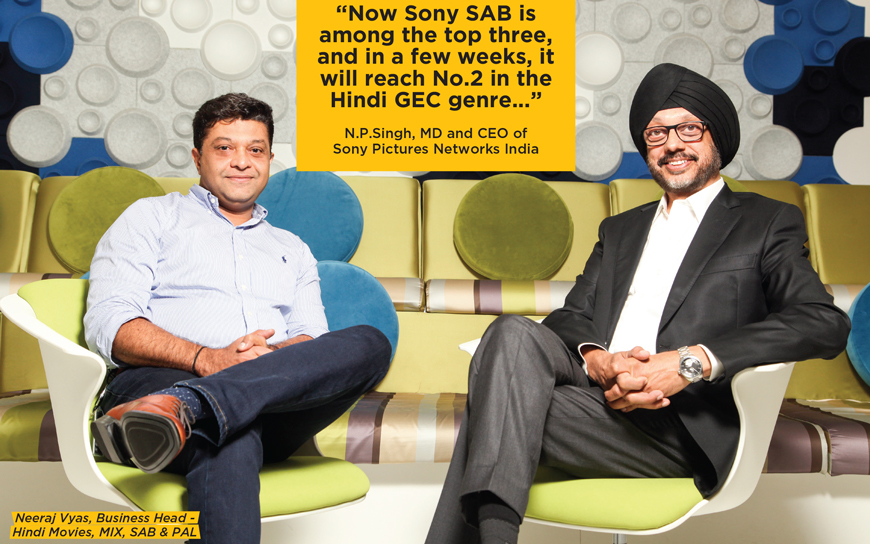 Q].

You have forged a unique partnership with TikTok for your new show Tera Kya Hoga Alia. Are you looking at such deep brand associations as a differentiator, and are any more in the offing?
TikTok has a base of 200 million individuals and growing, and it has already given Alia a base of 1.5 million followers in a week-and-a-half, which is unheard of, and ratings aside, this is the real world. If Alia can get 1.5 million followers in that time, for me that is the way forward. More of this for sure, and not just on one platform, it could be multiple platforms.
Q].

What is the focus of your overall strategy for programming and content creation?
Explore new themes, it could be dramedies, sketch comedies, adventures, satire… Broaden the scope of content through very strong narrative arcs. From a strategy standpoint, we are going to focus on the 1 million+ Hindi-speaking Markets. About 80% of high potential cities are in 1 million+ towns. I am talking about Raipur, Kota, those kind of markets. These are the high potential markets from the advertiser point of view. These are the markets which have the propensity to spend, from a consumer point of view. Everything until now was from a TV ratings point of view. Today, we have to find a greater balance between ratings and paying consumers. I need to be over indexed in this market to be able to say I am happy.
Q].

Do you think long-running shows work better or finite short format shows in today's television industry?
From a pure economics point of view, short format doesn't work on TV. You have a set cost which is for real, which is kind of ammortized over 'X' amount of episodes, say 130 or 260. So, your cost realities are worked out. The minute you switch to lesser number of episodes, your cost goes up crazily. Secondly, you will need a lot more marketing money, double or triple, to market more shows.
Q].

What are you excited about at the moment?
The journey of Sony SAB in the last two years has been extremely memorable, extremely gratifying, extremely tiring at the same time, because we have had to re-craft and reignite a lot of our content expression. To recast it, first, was actually taking a lot of risk, but at the same time it was probably the right time to do that, create some very memorable characters, be it Tenali, or Elaichi with Jijaji Chhat Per Hai, or Aladdin, even to Baal Veer now. It all seems to be have paid off.
Q].

What is the quantum of growth in revenue that you expect to see this year?
The revenue story will see a huge upside this year for sure, post the NTO. This year we see a growth of anywhere between 30%-35% on our advertising revenues, which is fairly sizeable.
Q].

Going forward, what are your plans for SAB TV?
We need to be very true to the journey that we have embarked on. 'Khushiyon Wali Feeling' is not just a tagline for the channel; it's something we all deeply believe in. We believe the brand makes a difference. We are open enough to say that we are not a multi-expression channel. We don't have singing and dancing and so many other formats. But, what we have makes us unique. I tell a lot of people that we may not be the main course, but we are the dessert. And everybody wants something sweet. Our attempt is stay absolutely honest to this reality, create content which appeals to people, makes them happier, and hopefully helps them carry the happiness forward.

Vaishali Sharma

Head, Marketing & Communications, Sony SAB, PAL and Sony MAX Movie Cluster, SPNI

"Borrowing from the simple insight that when people are happy, it makes the world a better place, we came up with the 'Khushiyon Waali Feeling' philosophy. From it stemmed this whole idea of evolving the brand to the next level, where it's not just about the brand, but what the brand does for the world, what it enables people to do. Happiness begets humanity – that was the insight."