Disruption is the big buzzword these days – our world is getting disrupted faster than ever before. On social media these days, the #10YearChallenge is doing the rounds. While people were posting their images from 10 years and comparing it to what they look like now, I couldn't help but think how not only our physical appearances; but the entire world around us has rapidly changed.
A few years ago, we used our feature phones and SMS only for communicating with others; today, we use smartphones for all our tasks, work-related and personal. We would get bothered by missed calls on our feature phones; now we get annoyed with forwards and good morning messages on several WhatsApp groups. Earlier, when we needed public transport, we used to look for rickshaws and taxis; now with one touch of the screen, our Uber and Ola drivers look for us. We used to call our TV the Idiot Box; now we call it SMART. We used to walk to our nearest kirana store to get groceries and household goods, but today, we shop on our mobile phone. A decade ago, we would plan our day around Prime Time TV shows but now any time can be prime time because we can consume our favourite content at any time of the day, thanks to the growth of OTT players that have personalized the entertainment experience.
With the advent of technology and evolution of society in the last decade, consumers are calling the shots, not advertisers, broadcasters or content creators. The power lies in the hands of the consumers!
What we are currently witnessing is the 'Rise of the Individual and fall of the Household' - where before brands used to target households, we now need to tap individuals themselves. For example, ten years ago there was one shampoo in the household, and the key decision maker was the mother in the house. Now every individual in the house is making their own decision (a shampoo for mother, one for father and the kids have their own shampoo). The role of influencers in brand choices has never been as prominent as it is today, especially for millennials. Disruption in Advertising & Media – Challenge or Opportunity?
Our world is being disrupted faster than ever before. To make it more congruent with our audience today, let's look at the advertising and media consumption as well. India currently ranks #2 in the world with over 1 billion mobile phone subscriptions.
There are approximately 350 million smartphone users in the country. The advertising market has tripled during the last 10 years and is expected to cross the Rs 70,000-crore mark in 2019. TV has more than tripled over the last 10 years and the digital pie is 20 times bigger than it was a decade ago. Digital spends are expected to touch the Rs 20,000-crore mark by the year 2020. We have also seen our consumers move from one screen to multiple screens of different sizes that has led to the convergence of different mediums. The lines between different mediums like TV, digital and radio are consistently blurring and what we have today is an integrated landscape. This fast-paced disruption is not as a challenge that we face; but an opportunity that we must seize.
THE THREE STEP APPROACH TO SUSTAINABLE INDUSTRY GROWTH
There are three broad steps for us as an industry to seize the opportunity for growth. Before that, I want to reinforce the key mantra that has helped P&G stay ahead of the curve and disruption for 180 years – 'Consumer is Boss'!
RISE UP
What this means is that we have to collectively raise the bar on creativity. Disruption has led to more choices and options that has led to more clutter! We need to work harder to earn the consumers' attention than ever before. Before Digital became big, we were constrained by limited formats and evolved slowly. Now, we have the freedom to spread our wings and evolve at lightning speed. The result can be magnificent works of advertising. Let's think consumer first. At P&G, we realise that the world is getting louder, and it is imperative that we don't contribute to the noise. Instead, we focus on how to change our game and raise the bar on creativity.
The core part of creativity is for us to create work that persuades, tapping into insights, describing how the brand performs, why it's the best, and what it does in people's lives. One of the examples I would like to share with you is for our Baby care brand Pampers – where as the market leader, we conceived an advertisement to grow the diaper category. Our insight was that the elders in the household like the baby's grandmother is not the biggest advocate for baby diapers and that can be a barrier to adoption of the category. The only influencer that can trump her decision is the paediatrician. Our creative articulationof this insight played out a conversation between a grandmother and the paediatrician on how 'babies in wet cloth may feel cold at night unlike diapers which keep wetness inside'. This advertisement had a profound impact on consumer behaviour on the category and we have seen the category growth increase from 10% to 30% in the last three years.
STEP UP
At P&G, we have made a choice to step up and use our voice in advertising as a force for good and a force for growth. As companies and organizations, it is our responsibility to contribute to the growth and sustainable development of our society. As a company, P&G is focused on creating advertising that makes a difference. Ultimately, this means work that has the potential to make the world better. Our voice can be used to step up on important matters such as gender equality, education, environment and sustainability. Let's revisit the consumer first thinking; Consumers are telling us they expect more from our brands and that is not optional. 9 of 10 consumers say they have a more positive image of a brand when it supports a social or environmental cause, and half say they make purchase decisions based on shared beliefs with the brand. People of all ages – from Gen Z to even boomers – expect brands to take a stand, and 65% of millennials find it unacceptable for a brand to be silent on important societal issues.
Few examples closer to home that you all would be aware from P&G include Ariel 'Share the Load' – to drive equality in the household and Whisper 'Like A Girl' – which makes 'like a girl' mean amazing things instead of a stereotype. We just launched the third edition of Ariel 'Share The Load' and are receiving amazing response. We are seeing the change we are making through this campaign. We conducted a survey in 2016 which highlighted that 63 percent* married men thought that household work was a woman's responsibility. However, in 2018, this number dropped to 52 percent*. No doubt that there is more work to be done but these results are testimony to a piece of work that started as a brand campaign, has today matured into a movement and become an agent of social change.
WAKE UP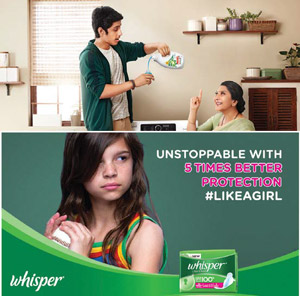 Digital technology has also brought some uninvited guests to the party – viewability problems, ad skipping, endless ad load times, and some lousy advertising. No wonder we're seeing more ad blocking. The people we serve are voting with their fingertips and they're saying that too much of our advertising is unwanted, uninteresting, uninspiring, and therefore un-effective. It is time to WAKE UP and make the ad experience better for our consumers. What we need is a third-party unified measurement for advertising across mediums. It is imperative that we have a unified measurement system for media effectiveness, one that measures TV and online in a uniform and consistent manner. We need to increase accountability towards media transparency in the entire industry — across advertisers, broadcasters, agencies and measurement experts. We also need quality content for quality placement – we must invest only where it is safe, effective and high quality. It is good for our brands and it's a better experience for our consumers. Half the money we spend on advertising is wasted; the trouble is sometimes we don't know which half. We need to reach people with more useful and engaging one-to-one experience on a mass scale.
"It is imperative that we have a unified measurement system for media effectiveness, one that measures TV and online in a uniform and consistent manner"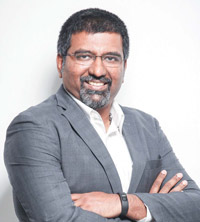 We must also collectively acknowledge the importance of self-regulation in this dynamic market. With aggressive competition being the new normal, it is greatly in the interest of consumers and marketers that there exists a well-established and trustworthy self-regulatory organization. This system establishes consistency in advertising, increases accountability of the companies and creates a level playing field which in turn promotes healthy competition. All this collectively contributes towards consumer welfare and interest. Advertising Standards Council of India (ASCI) has been working as an advertising self-regulatory organization for over 30 years now and has established strong credibility and reputation as one of the better advertising self-regulatory bodies in the world. However, as an industry, we need to do more and continue our focus on making the current self-regulation system more dependable and acceptable. I believe that we should broadly focus on three areas. (1) Increasing Transparency – in the self-regulation process and strengthen the independence of the complaints committee and administrative function; (2) Ensuring Efficiency in decision making which is speed and agility and (3) Ensuring Enforceability – of its decisions.
If we Rise Up, Step Up and Wake Up today, it will hold us in good stead by the time we do the next ten-year challenge in 2029!
QUICK TAKES ON GROWTH FIGURES

"The latest Pitch Madison report reaffirms our belief that the growth of digital media will only accelerate on the back of e-commerce, video and regional languages. At MX Player, we are committed to empower regional film-makers and local studios to create engaging content that will capture the imagination of this increasingly mobile audience. The sheer quality of video content on OTT platforms like ours will trigger a network effect that will attract more viewers, and eventually more advertisers. This will not only lead to increased spending on digital marketing, but also hold the potential to grow the overall pie for media investment in India."
- KARAN BEDI CEO, MX Player

"I think TV will grow more than 18% this year. The year 2019 will be a news year because of Lok Sabha elections and State elections. As the reach of news channels increases because of these events, the demand for such channels will also go up amongst advertisers, which will lead to cost of advertising in this genre increasing. All this will help TV channels become value for money proposition. TV will be the prime medium of spends in 2019."
-VARUN KOHLI CEO, ITV Network

"For sure, Radio will show strong double digit growth as advertisers are now enjoying the effectiveness of the medium. Integrated ideation is growing and so is content innovation. Radio is now occupying good space in the listener's mind beyond music too."
- RAHUL NAMJOSHI Business Head, My FM