Tanya Dubash is a little like the hardy mangroves that cover the vast Godrej campus in Mumbai's Vikhroli suburb. Mangroves not only hold the soil together, but are hugely adaptable to any environmental condition and enhance the quality of the air around them just by existing. It is not difficult to draw an analogy between them and the eldest daughter of the Godrej family, known to be a tough business leader on one hand and an extremely approachable, empathetic and humble person on the other, focused on nurturing businesses and talent.
Her decade-long mission to build the Godrej Masterbrand, by drawing up the Godrej Masterbrand Strategy, and concerted efforts to connect the company's brands to a youthful, millennial audience have culminated in the legacy Godrej Group turning into a young, brand-driven organisation, and today, Tanya Dubash does not set herself any limits as she goes about planning to take the company to another level.
A BRAND MANAGER IS BORN
Tanya Dubash joined the business after postgraduating in 1992, and began as a brand manager for what was then known as Premium Soaps and evolved from there. Says Sam Balsara, Chairman, Madison World, who has been associated with the Godrej family for almost three decades, "Tanya has been exposed to marketing from quite a young age, soon after her college days. Then, Godrej Soaps had an extremely efficient system of handling advertising matters, and group meetings were held every week on Wednesday afternoons when all agencies working on Godrej Soap brands were invited and given about half-hour to an hour to present, one after another. The meetings were chaired by Adi and Parmeshwar Godrej and the entire Godrej marketing team would attend the meeting. Tanya attended these meetings and actively contributed to the deliberations. She was also actively involved in launching new soap brands including the hugely successful Cinthol Lime. She was involved in conceptualising, branding, packaging and advertising of Evita Soap, the Vitamin E Soap."
One of the biggest challenges for Dubash then and now remains being relevant to future generations. "With the advent of technology and the increasing prevalence of start-ups and new age brands, getting into the mindspace of millennials and the younger generation requires us to have agility, relevance, purpose and most importantly contemporary products and services. We are working on these across our businesses and have been able to meaningfully engage with all our customers across all businesses. Godrej touches the lives of 750 million Indians daily and 1.15 billion consumers globally," she says.


BUILDING THE GODREJ MASTERBRAND
We ask Dubash to take us through the amazing journey of the Godrej Masterbrand and how it has manifested itself across the highly diversified offerings of the Godrej Group - ranging from household goods to aerospace, real estate and defence - and what does it take to keep it at the centre of the business. "The Masterbrand journey has been truly exciting. It began about a decade ago when we decided to accelerate the pace of growth of the Godrej Group. There were several strategic levers which could enable this, one of the most important of which was to manage the Godrej brand, which is an invaluable asset, more effectively through a powerful Masterbrand and Portfolio Strategy," Dubash explains.
She then drew up a clear roadmap with key initiatives which included:
1. Revitalising the Masterbrand to appeal to a younger generation by repositioning the company and modernizing its identity
2. Building an endorsement system across its portfolio with a clear brand architecture. This strengthened the two-way equity flow between brand positioning and brand portfolio
3. Identifying and focusing on innovations in 'hero' categories which included reinventing products and services in line with the repositioning and creating a consumer-focused culture where consumers get an engaging and consistent Godrej brand experience across all touch-points.
"We were very confident that all of this would lead to a strengthening of our relationship with our then 400 million customers. We then undertook a brand valuation exercise with the objective of not only valuing the brand but understanding the drivers of brand value such that we would know exactly what needed to be done to increase brand value over time. This is all easier said than done as we have a very diverse portfolio of businesses and products," recalls Dubash. "In more recent times, post a research by Millward Brown, we have identified eight pillars that drive admiration for the Masterbrand. Based on these pillars we have crafted a complete strategy that involves content, amplification through digital, our owned media properties in specific verticals to which our businesses belong to – Food, Lifestyle, Design etc. A good mix of paid, owned and earned media strategies is employed to connect with influencers and consumers so that we are able to bring to the fore various aspects of our thought leadership."
Balsara remembers Dubash leading the project on re-imagining Godrej at the turn of the century, starting with revitalising and refurbishing the Godrej brand identity and laying down the path for its future, building on the values of Godrej, that have emerged over generations. All this in addition to her overall responsibilities of Strategic Marketing for the group.
"The Godrej Group has undergone huge transformation in the last five years in public perception. Today, Godrej is known for its millennial connect and societal impact. It is known for social activism on various issues. Today Godrej is known for its innovation. Most of this has been led and directed by Tanya," says Madan Bahal, Managing Director, Adfactors PR.
"The exemplary transformation of the Godrej Group was led by Tanya and her recognition of the internal culture change as a sustainable route to evolution was pivotal to the success of the programme," says Ashish Mishra, Managing Director, Interbrand of the DDB Mudra Group. "As many who have seen it closely will agree, Godrej perhaps is the first and the best example of a brand-led organisational transformation that is not cosmetic but driven by a culture and values change."
A RARE KIND OF LEADER
People who work with Tanya Dubash – be it her team at Godrej or industry associates - have nothing but the highest praise for her as a person and leader. Says Ashish Mishra, who has worked closely with Dubash for many years on the brandled transformation of the Godrej Group, "What is remarkable about Tanya is her emotional intelligence and honesty of expression. Industry icons have traditionally led through their business acumen, analytical prowess and forceful dynamism. Tanya is both right-brained and left-brained and very human in her approach. Her ability to thus intuitively understand customers is very high. Her sensitivity makes her appreciate the insights a lot better. In this 'Age of You' where people are using technology to design their lives, businesses are having to be more human than ever before. Within the new hyper people-centricity straddling both employees and customers, her natural emphasis on real and people-led change works very well."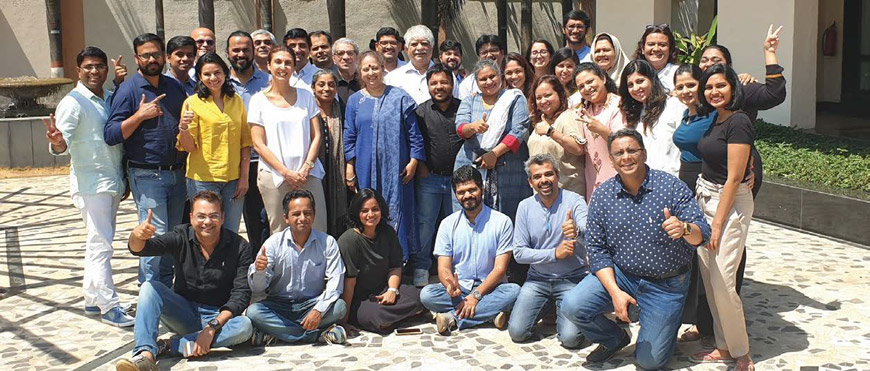 To Sam Balsara, Tanya Dubash is an outstanding leader, who gives you a patient hearing, albeit with "an iron fist in a velvet glove". "She is empathetic and the epitome of charm and grace. But, of course, she is no push-over, being very decisive and firm. I would call her the Godrej lady with an iron fist in a velvet glove," Balsara says.
Madan Bahal is another industry leader who has worked with Dubash at close quarters and he echoes Balsara's words, calling her "an outstanding leader". "Leading the communication process not only for the internal team of corporate communications, but for the larger family of all partner agencies, whether they are creative or advertising or public relations, is a unique example in the Indian business community. She leads from the front, and the access that she provides is exemplary. She is the person who will listen to you if you have an idea or a point of view, give feedback, and importantly act on it. It is rare in the Indian communication industry for us to find another example where a promoter family person, or a boardroom person, takes so much interest in all issues communication - be it reputation or positioning the products or brands. It is very heartening and it inspires everybody to put in their best because if you have a thought, or an idea, there is a promoter family person and boardroom person listening to you, and acting on it. The level of respect she gives to anyone, even the youngest member of the team, is a very inspiring thing."
Bahal goes on to cite his experience at a recent offsite arranged by Sujit Patil, who heads corporate brand communications at Godrej, for all the Group's partner agencies. "In 36 years of work, I have never come across something like this - multiple teams from creative, digital, content agencies to PR agencies, all busy brainstorming for the year ahead and Tanya involved full time in it. Even more importantly, she didn't maintain a cold aloofness that leaders normally do. She mixed with the people, she had all meals with them. She even partied and danced with them. For a communicator or a person at any level within the company or in the partner agencies, such a leader is one to die for. We think very highly of her and respect her. Extreme competence and high quality leadership combined with extreme humility and simplicity – that's her," Bahal adds. Ask Dubash herself about the X factor that makes her the leader she is today, and she says, "I am quite a hands-on manager, whilst giving people the empowerment they need to take ownership and deliver. I like to get a variety of opinions before taking a decision and I guess I am democratic in that sense."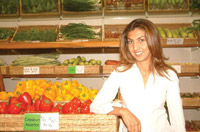 THE NATURE'S BASKET JOURNEY

What started in 2005 as a single store in Mumbai has now transformed into a full-fledged omni-channel retail business. Godrej Nature's Basket is present through physical retail stores across West and South of India, supported by an online portal and a mobile application. "We are an omni-channel retailer," says Tanya Dubash. "Our aim is to redefine India's freshest and finest food experience and be the go-to place for our customer's 'Daily Food Delights'. Be it the freshest fruits and vegetables, the finest meats, wide array of cheese, irresistible bakery products and more. Healthy Alternatives, L'Exclusif and Nature's are our own range of label brands, each providing a distinct offering to cater to the discerning palate of the Indian consumer."

A few years ago, Godrej Nature's Basket (GNB) launched its transformation strategy, geared towards being a quality fresh neighbourhood store. Today, the brand aims to meet both the special and daily food needs of consumers. "We have charted a thoughtful three-year growth plan and the business is also looking at aggressively expanding its footprint within this time period," asserts Dubash. "GNB will achieve this through a strong focus on sourcing the freshest and finest, penetrating deeper in the South and West regions and nurturing its own brands. Towards this, the business has invested significantly in talent development at all levels and in technology to uplift the customer experience."
'Building purposeful brands is a major challenge today'

It's L'Affaire Season 3 at The Trees within the Godrej campus in Vikhroli, and the February air has come alive with the popular lifestyle soiree. Aimed at providing a complete sensorial experience to enthral the five senses of taste, sight, sound, touch and smell, L'Affaire features fashion designer Vikram Phadnis, the glamorous Shibani Dandekar, ace photographers Joseph Radhika and Jatin Kampani to Master Chef Sarah Todd and acclaimed Chef Saransh Goila, in a cultural melting pot subtly integrated with the company's own brands as well as participating brands such as Myntra and Jeep. The event gives a very premium and niche experience... The audience is mesmerized by the fashion show – Phadnis's first couture show of 2019 - where models walk the ramp gracefully outlined against Godrej One, the integrated office hub of the Godrej Group.

The best part is the Godrej family's presence – right from Adi Godrej and his brother Nadir Godrej to Tanya Dubash - mingling with Team Godrej and guests even as finger food is circulated from the Vikhroli Social, right inside the campus.

Earlier, releasing the Godrej Food Trends report 2019, Tanya Dubash, Executive Director and Chief Brand Officer, Godrej Industries, has expressed her desire to make this platform bigger and better in the years to come. Overall, there are 'young and happening' vibes in the air, much to the delight of a largely young audience. Over to Dubash for a few questions on L'Affaire, her insights on advertising, future plans and more…

Q]

From being seen as a traditional Indian brand, Godrej has moved to being perceived as a youthful, energetic brand, with new ventures and initiatives such as L'Affaire and others… can you take us through the strategy behind this transformation and what's next on this front?


As a part of our corporate brand and communication strategy, we adopted owned media platforms as a key mode of communication. We realised a few years ago that with the proliferation of digital platforms and influencers, the need for authentic content and experiential engagement would be key. At Godrej, multiple businesses in related spaces engaged with same external stakeholders separately. We thought that creating owned media properties (OMP) and owning niche spaces for deeper engagement with stakeholders would be beneficial. The first OMP was in the space of Food. Branded as Vikhroli Cucina, we today integrate six of our businesses and also attract external brands in the food space to come together and give the influencers authentic experiences. Today this property is in its fourth season. Based on the learnings, we launched L'Affairé our OMP in the lifestyle space. This year in order to build a community of influencers in the architects and interior designers space, we launched Design Dekko. The idea is to use the collective might of multiple like-minded businesses to meaningfully engage with the stakeholders and create a positive digital ecosystem and a better disposition for the participating brands. These new age spaces help us connect with our audiences effectively and help position Godrej as modern and energetic.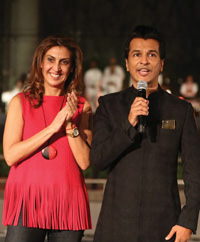 Q]

How has the role of the Strategic Marketing Group evolved over the years? What are some marketing challenges that you sense in today's scenario talking to Group Marketing heads?


We have combined the Strategic Marketing Group and our Group Corporate Communications. The function is now called the Corporate Brand and Communications function. The team works across the group with a focus on thought leadership and corporate brand-building. The function has evolved over the years as the custodian of the Masterbrand Godrej as well as a key communication partner to the various businesses and brands across the group.

I feel that building purposeful brands is one of the major challenges today. Also key shifts in technological landscape and consumer behaviours have kept marketers on their toes. Appropriate use of data, leveraging technology, delivering personalization, enhancing consumer experiences, hastening the time to market and in the end ensuring ROI of spends give marketers sleepless nights.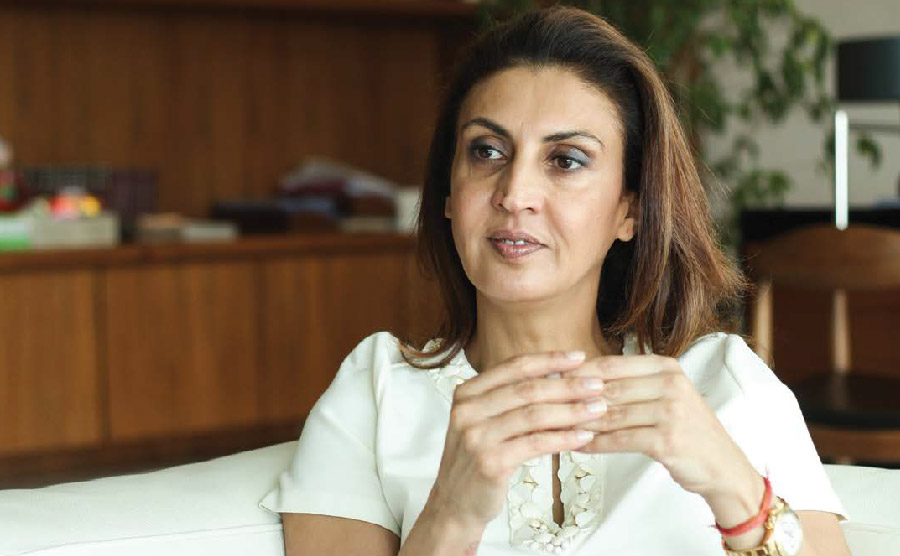 Q]

What are three considerations that guide you while deciding on the advertising and brand communication strategy of the Group companies?


1. Authenticity 2. Relevance and 3. ROI

Q]

What are some of the conversations you have these days with your creative and media partners?


Apart from the review of agreed objectives, the general conversations I have with our partners are around how to enhance the effectiveness, the metrics for ROI, their level of understanding of our businesses, and the new opportunities that are available for us to consider.

Q]

Tell us about the diversity agenda at the Godrej Group... how diverse is your talent pool and what are some things you would point out as unique?


Diversity and Inclusion have always been at the core of our values and ethos. In fact, I believe that diversity is imperative for the success of any business. As an organization, we have always embraced people of all genders, sexualities, religions and nationalities. All of us here at Godrej are united by our commitment to create an inclusive culture that enables all employees to bring their 'whole self' to work and thrive in a diverse and inclusive environment. We have adopted a holistic approach to inclusion where we touch all aspects of diversity – demographic, gender, sexual orientation, etc. We choose to be guided by the principle of equity, not equality in designing our policies and other interventions that specifically target under-represented cohorts. It is a common saying that what gets measured gets done. And taking this view on Diversity and Inclusion, we are investing our efforts into measuring our progress on key metrics such as recruitment and engagement.

Q]

What are going to be the growth drivers for the Godrej Group going ahead?


I would say that our Property business along with our Agri business and of course our flagship Consumer Products business are likely to be our growth drivers. The recent Budget, with its strong consumption focus, will certainly boost the overall economy. Our Godrej Agro Vet Limited (GAVL) and Godrej Consumer Products Limited (GCPL) businesses should benefit from this economic thrust to uplift the agrarian economy and put more money into the hands of middle class consumers. Both these companies have strong brands and deeply thought-through strategic plans. Godrej Properties is an extremely trusted brand with a strong pipeline of projects. In our other businesses like furniture and appliances, there is a good line-up of innovations which will be great for business. Overall, we are expecting to continue to do very well over the next few years.
'BE AUTHENTIC, PASSIONATE & HUMBLE'
Tanya Dubash on life, work and more…

Q] If we ask you to introspect and describe yourself in one word, what would your answer be?
I think you would have to ask others this question!

Q] Which are your favourite brands – ones that you personally use?
Cinthol, Nature's Basket, Good Knight, Amul and Apple

Q] Behind every successful woman, there is a...
Family support system.

Q] What is the work-life balance that you have? Tell us about a typical day in your life… How does your immediate family relate to your work life?
I have a good work life balance which I think is important.

Q] As you straddle different roles, what is your mantra to ensure great performance by yourself and your team?
Be authentic, passionate and humble.

Q] Where would you want to see yourself, say five years from now?
Helping to continue taking Godrej to ever-increasing heights.

THE YOUTH CONNECT
Tanya Dubash is also India Director of AIESEC, an international non-governmental and notfor-profit organization that provides young people with leadership development, cross-cultural internships and volunteer exchange experiences across the globe. The AIESEC motto 'We strive to achieve peace and fulfilment of humankind's potential' finds a resonance in her work in the business sphere too, as she goes about connecting the brand to a millennial audience.