Did you spend Independence Day binge-watching all eight episodes of Sacred Games on Netflix? Or was your Friday fix till recently a serving of Comicstaan Season 2 on Amazon Prime Video? Chances are that if you are in the age group of 15-35, making up a majority of India's approximately 300 million online video subscriber base, shows like 'The Office', 'Hostages', 'Stranger Things', 'Game of Thrones', 'Made in Heaven', 'Mirzapur' and 'Little Things' would likely be on your watch list, covering comedy, crime, drama, thriller, action – the most trending genres in the Indian OTT space.
Indeed, with over 35 over-the-top (OTT) platforms to choose from in the market currently and with most of them being offered as bundled options with attractive mobile data plans, consumers today are spoilt for choice with an abundance of content to consume on the go, anywhere, anytime. In fact, following the launch of Jio fibre with a base plan offering of 100 Mbps speed at Rs 700 per month bundled with a number of popular OTT platforms, other telcos are also expected to follow suit with competitive offerings. In fact, Nokia's annual Mobile Broadband India Traffic Index study 2018 showed that the average data usage grew 69% in India to touch 10 GB per user per month, with video streaming contributing the most.
All this means it's a boom time for India's nearly Rs 4,500 crore OTT market, which according to PwC's recent Media and Entertainment report is set to touch Rs 11,977 crore by 2023. The biggest gainers from this growing consumer appetite for online content are, of course, the content creators and the OTT platforms which either license content from production houses or co-create content in collaboration with content creators which are then hosted on their platforms.
CONTENT CREATORS: KAUN BANEGA CROREPATI?
The last two years have in many ways been an eye-opener for the digital entertainment industry, showing the domestic consumer's insatiable appetite for all kinds of content, much of which remained unfulfilled by mainstream cinema or broadcast channels, till the advent of OTT platforms. Since then, there has been no looking back. To meet the consumer demand, a slew of OTT platforms have spawned and with them new windows of opportunity have opened for independent writers and content creators with a chance to not only showcase their creativity that was until recently mostly restricted to YouTube, but also a chance to earn a plump sum with big money being offered for content by OTT platforms.
Here's a look at some of the key drivers at play for content creators in today's digital environment:
MAKING BINGE-WORTHY CONTENT:
Apart from the popular genres like crime, drama, action, thriller and comedy, content today needs to be gripping enough to get consumers hooked onto the screen for hours and impressed enough to download the OTT app, even after the trial period offer ends.
Arré, which placed its bet on long form original content, has been reaping the rewards of its early mover advantage. Talking about having the management bandwidth, as well as the creative experience to execute large projects which require scale, multiple sets of seasons with investment and storylines, and various levels of talent access, including prominent actors which the platform has been able to attract, Ajay Chacko, Co-founder & CEO, Arré says, "The quality scale has changed from what it used to be and that's a very healthy trend. Watch time and engagement have become big drivers. Currently at Arré, we have content on our own platforms as well as distributed content to most other OTT and telco platforms, licensing syndication deals; for example we collaborated with MX Player, Flipkart, SonyLiv, etc., for a couple of shows, and then we have our studio business, Arré Studio, which produces large format shows for domestic as well as international consumption."
The other demand from consumers is for regional content which they can relate to in their own mother tongue. Today, every content production house and OTT platform is working on regional shows which have shown a big uptake in viewership from Tier I, II and III markets. On this trend, Deepak Dhar, Founder & CEO, Banijay Asia says, "People want storylines in Bengali, in Tamil, Telugu, and Marathi. Clearly, there is a lot of consumption of that content, and that is also the mass market presenting the key to deeper penetration into the country."
LUCRATIVE MONETIZATION OPPORTUNITIES:
As compared to just a few years ago where the only avenues for independent writers were films or TV, today there are multiple production houses looking to absorb talented young writers who are offered remuneration between Rs 10,000 to Rs 10 lakh an episode, even as the production house makes anywhere from a few lakhs to a few crores per season. Talking about how this is the best time to be a producer, Dhruv Sheth, Managing Partner, OML says, "The whole journey is very exciting right now because what conventional commercial cinema or Television won't give you, the OTT platform offers. There is some amount of freedom in language, portrayal and varied content and this sort of liberation also makes the space more attractive." OML, which produces and distributes content, recently launched a talent management division to bring in talent from various backgrounds in a bid to offer more diversified content. For production houses, another avenue of monetization comes in the form of branded content, which is becoming increasingly popular. Remarks Karan Chaudhry, President & COO, The Viral Fever, "We are an advertising-led platform and business. We were among the first ones to do branded content in India on Digital. We work with brands across categories, providing them with unique and differentiated content. Branded content has seen huge traction with growth in the OTT space as they see value in the content and longer consumer watch time."
Adds Sudip Sanyal, National Business Head, Motion Content Group, WPP, "With more and more digital penetration, the need for content creation will be continuous, so that's where the big opportunity lies. Pure content will have as large a role to play for content creators as branded content." Remarks Jehil Thakkar of Deloitte, "This is really a golden period for production houses to make money. As consolidation happens, obviously the volume will go down. But, we are still a couple of years away from any of that. For now, there will still be continuous demand for content, from both domestic and global players who will ramp up their budgets and production values."
CO-CREATION AND END-TO-END MANAGEMENT:
A number of production houses today are partnering with each other or with OTT platforms to co-create content, jointly gaining from the expertise that each player brings to the table. For example, Applause Entertainment has content partnerships with Armoza Formats, an Israeli company and BBC Studios (for 'The Office' and 'Criminal Justice'). Remarks Deepak Segal, Head of Content, Applause Entertainment, "Many stories are universal. We thought it was a good idea to go with a mix of original content which takes time to put out and other content which has already done well and can be adapted to an Indian context." Banijay Asia too entered into an exclusive partnership with Motion Content Group with the idea of a joint partnership to start creating IPs and content solutions for brands, whereas Qyuki Digital Media has its own set of original creators comprising musicians, popular YouTube artistes, actors, presenters, fashion influencers and digital content creators whom it invests in and who make their own content for various social media platforms. The other aspect to this co-creation is that some production houses choose to take on the risk of holding IP for some of their original productions, while others choose to give away the IP to the OTT platform. Voicing his views on this, Kassim Jagmagia, Script Development & Creative Head, Excel Entertainment opines, "This depends on the negotiating power of the production house. We believe in our content and the creative control over it rests with us. Of course, we take suggestions and opinions from the OTT platform, but they have been pretty open and they accept our views. More than who holds the IP, however, it is important to ensure that both the parties are secured. At Excel, we do not move ahead with the deal till our derivative rights are secured, and we rightfully ask for future control of the spin-offs or sequels."
THE CHALLENGES
While the future is bright for content creators, it is also fraught with a few challenges. Endemol Shine India, which is hoping to bring its scripted business on par with its non-scripted business by 2022, sees challenges in the writer's room. According to Abhishek Rege, CEO, Endemol Shine India, "Finding the right talent for the kind of writing required is critical. We need to hone new talent. If a writer is overburdened, the quality of writing will definitely drop. Thus, getting experienced writers and creative producers on board helps with larger demand and shorter churn out time."
The other aspect is that most experienced writers used to write for films or TV, whereas long format web writing requires different creativity and skill-sets. Thus, most of the time, even experienced writers are learning and adapting according to changing audience preferences.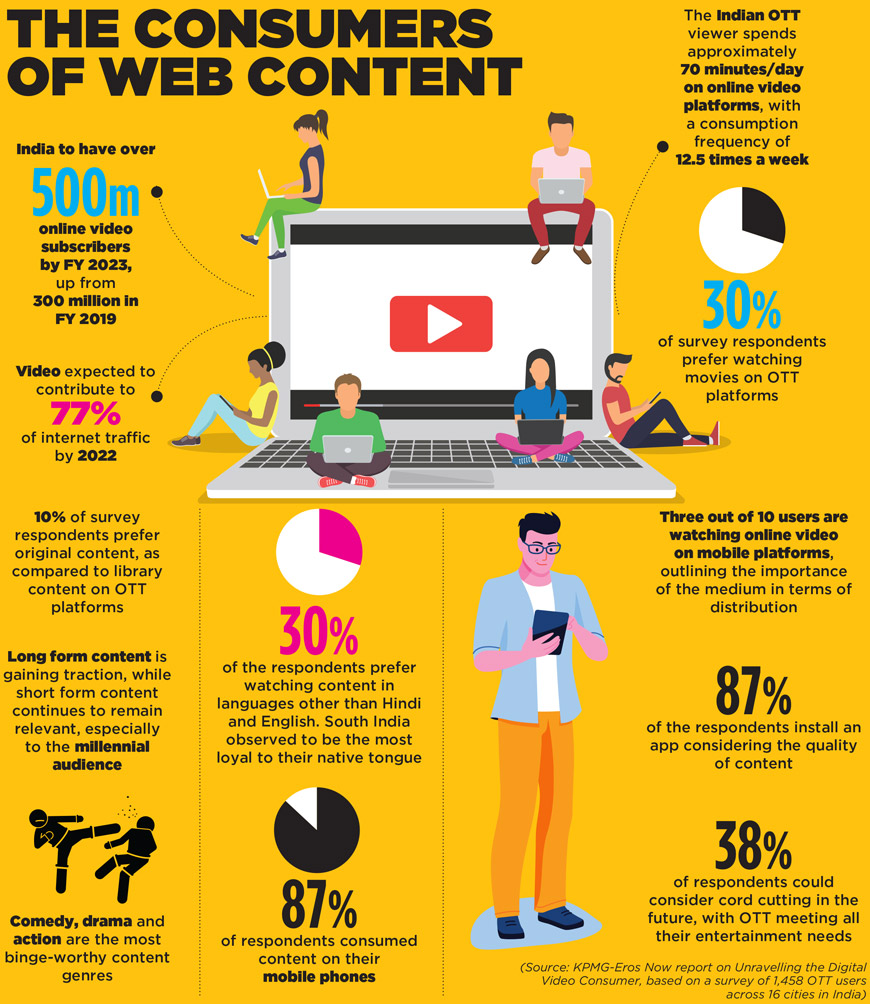 Differentiation is also set to be a huge creative challenge, with more competition calling for even more disruptive content. Remarks Anirudh Pandita, Co-founder, Pocket Aces, "The differentiation is not only in terms of content, but in creating a sellable brand name, being able to use data insights well to ensure a certain success formula and finding good partners. If you are a company which has distribution, production, content; basically all-round capabilities, there is a huge opportunity."
BBC Studios, which has been in the country for about 12 years, starting out primarily as a television production house, has seen OTT change the market place. On the challenges presented by OTT versus broadcast as a platform, Myleeta Aga, Senior VP & GM, SEA and South Asia, BBC Studios says, "OTT gives us a lot of opportunities to innovate. Content requirements are different on both platforms, with OTT catering to a wider spectrum of topics and requiring content that has to be constantly refreshed and ramped up quickly. Production skill-sets required are also different. So that represents a kind of challenge for producers."
Risk-taking with content that hasn't been tried and tested is yet another challenge faced by content creators today. Avers Darshan Bhatt, Director, GoQuest Digital Studios, "Most OTT platforms are wary of taking a risk with edgy, new, non-formulaic content. Hence, there are fewer originals and more tried and tested licensed shows on every platform. This is not because there is a dearth of original content or writers, but because of the risks involved in charting new territory. So there may be a billion production houses with a billion great ideas, but with most big platforms unwilling to take the risk, it is a tough road ahead for original content creators from smaller, boutique production houses."
Sanyal of Motion Content Group agrees. "Talent is everywhere and not limited to a precious few. Taking risk is a big factor in creating solid standout content and that's the risk which needs to be taken in terms of partnerships. ROI starts getting critical for everyone and that's where risk plays a key role."
Going forward, while broadcast and OTT will continue to co-exist, OTT is definitely growing faster. The convenience factor of being able to watch a show anytime also makes it more appealing than appointment viewing. Finding good talent will remain a challenge, as will churning out good quality original content in time to meet growing and changing consumer demand. Given that the current content ecosystem is very different from television, the need of the hour is to find more producers, writers and directors who can tailor-make their craft for this medium. It is also pertinent for the industry to effectively leverage data insights to drive content and business decisions. Finally, it is important for platforms and content creators to bear in mind that in order to build a sustainable business, investments should justify returns.
THE VIRAL FEVER (TVF)

Founder:
Arunabh Kumar

CEO:
Dhawal Gusain

Number of employees:
200+

Locations:
Mumbai, Delhi, Bangalore, Chennai

What began as an online YouTube channel started by TVF Media Labs in 2010 to showcase young India's take on Indian politics, social issues, cultural norms and more, gradually grew to add a website and an app in the form of TVFPlay to host popular videos and web series. Some of the channels under the TVF umbrella include Girliyapa, The Timeliners and The Screen Patti. The company also later diversified into creation and distribution of original digital content, as well as advertiser-led branded content. TVF is backed by New York-based investment firm, Tiger Global Management which has pumped in about $16 million in funding into the company till date, with current valuation of TVF at approximately $80 million. TVF's main target audience is the 15-35 age group. It is currently working on content partnerships with Zomato and Flipkart.
Popular shows: TVF Tripling, Permanent Roomates, Yeh Meri Family, Kota Factory


Karan Chaudhry

President & COO,The Viral Fever
"We were one of the first viral channels in the country in 2012. Since then the market has evolved rapidly, not as much in terms of content as the sheer number of consumers. Our USP lies in the fact that we are a young team creating content for people our own age."
ARRE

Founders:
B. Sai Kumar, Ajay Chacko, Sanjay Ray Chaudhari

CEO:
Ajay Chacko

Number of employees:
45

Locations:
Mumbai, Delhi, Bangalore

Launched in 2016 by former TV18 executives, B. Sai Kumar, Ajay Chacko and Sanjay Ray Chaudhuri, Arré is an entertainment content platform which produces and publishes videos, audio series, web series, doodles and documentaries across genres like comedy, drama, thriller, infotainment, and opinion, among others, through its site, apps, social media channels and is distributed across 20+ platforms such as Jio, Vodafone Play, Ola Play, Flipkart, JioSaavn, MX Player, etc. Arré collaborates with several brands to produce unique branded content. It also creates large format shows for OTT platforms such as Hotstar, Amazon among others via Arré Studio, its studio business.
Popular shows: AISHA, Official Chukyagiri, The Real High, Fitoor Mishra ki Commentaare


Ajay Chacko

Co-founder & CEO, Arre
"We spotted a need gap for original, long-form premium content fairly early. Our USP lies in the storytelling we bring to the table, be it articles or videos or audio shows ; differentiated ideas that mirror socio-cultural trends and an edgy voice is what we stand for."
EXCEL ENTERTAINMENT

Founders:
Ritesh Sidhwani and Farhan Akhtar

Business Head:
Vishal Ramchandani

Number of employees:
75+

Location:
Mumbai

Excel Entertainment was founded by Ritesh Sidhwani and Farhan Akhtar in 1999 as a film production and distribution company. In 2017, Excel Entertainment ventured into the OTT space with its first original series for Amazon Prime Video – 'Inside Edge', which was nominated for the International Emmy awards for Best Drama Series. Following the success of 'Inside Edge', Amazon collaborated with Excel Entertainment for two more web series –'Mirzapur' and 'Made in Heaven'.
Popular shows: Inside Edge, Mirzapur, Made in Heaven Kassim Jagmagia, Script Development & Creative Head, Excel Entertainment
"OTT or digital is truly a writer's platform with the ability to explore one's creativity across genres and the OTT boom has provided exposure to content creators to imbibe learnings from global content as well."
POCKET ACES

Founders:
Ashwin Suresh, Anirudh Pandita and Aditi Shrivastava

Number of employees:
145

Locations:
Delhi, Mumbai, Bangalore

Pocket Aces is a digital entertainment company which operates three socially distributed content channels: FilterCopy (short videos), Dice Media (long-form videos), and Gobble (food and lifestyle videos), as well as a direct-to-consumer platform: Loco (live and interactive e-sports app). Pocket Aces was amongst the first Indian digital content companies to sign a multi-show deal with Netflix in 2018 and also works with Amazon and Hotstar today. Apart from OTT platforms, it also works on branded content with advertisers such as PepsiCo, Flipkart, Amazon, Samsung, One Plus, Google, Kingfisher, Kotak Mahindra Bank, etc. Pocket Aces' content IP library is syndicated across platforms like Ola Play and Reliance Jio, airlines such as Emirates, Jet and Cathay Pacific, cable partners like Tata Sky, and international platforms such as China's Youku Tudou and Bytedance. Recently, Pocket Aces raised $14.7 million in a funding round from Sequoia Capital, DSP Group, and 3one4 Capital among other investment firms.
Popular shows: Little Things, Adulting, What the Folks


Anirudh Pandita

Co-founder, Pocket Aces
"Our secret sauce has always been that we have a great short form franchise that gives us proven demand for long form franchisers. We have the data and the insights to understand the audience wants to see and we create content accordingly, which provides a better success rate."
ENDEMOL SHINE INDIA

CEO:
Abhishek Rege

Number of employees:
120+

Locations:
Mumbai, Delhi, Chennai, Hyderabad, Bangalore

Part of the Dutch production and distribution company, Endemol Shine Group has operations in 23 markets. Endemol Shine India was started in 2006 as a content creation, production and distribution provider for broadcasters. Known for producing reality shows like 'Bigg Boss', 'Khatron Ke Khiladi', 'The Great Indian Laughter Challenge', 'Master Chef India' and 'So You Think You Can Dance India', among other popular TV shows, in 2017, it produced its first Hindi web series original 'The Test Case' for OTT platform, ALTBalaji, following which it began collaborating with other OTT platforms like Netflix, Hotstar and ZEE5 as well, for scripted as well as non-scripted content across genres. The company also works with advertisers like Rin, Frito Lays, and Fair & Lovely, among others for branded content.
Popular shows: The Test Case, Dhanbad, Mission Over Mars


Abhishek Rege

CEO,Endemol Shine India
"We are exploring various partnerships, stories and rights to help us achieve our goal of a 50:50 scripted and non-scripted business by 2022."
ONLY MUCH LOUDER (OML)

Founder:
Vijay Nair

Managing Partner:
Dhruv Sheth

Number of employees:
135

Location:
Mumbai

OML is a global company that creates content IPs for platforms, live entertainment shows and brand-related content for artistes across comedy, music and story-telling in 20+ countries. The Mumbai-based arm was founded in 2002 to book and manage artistes across all genres of entertainment. Almost two decades later, OML has a global creator network of over 200+ artistes across the world. Live experiences, brand-related content and talent representation are the core focus areas for OML. While it is associated with some of India's biggest live entertainment properties like the BACARDÍ NH7 Weekender, Breezer Vivid Shuffle and comedy shows LOLstars and Headliners, it has also produced content across genres for television as well as multimedia platforms such as 'Sound Trippin', 'The Dewarists', 'Comicstaan', 'Laakhon Mein Ek', 'Pushpavalli', 'Chacha Vidhayak Hai Humare' and 'Queens of Comedy'. Apart from this, OML also creates unique content for brands, the likes of which include Bacardi, YouTube, Cadbury's 5-star, Google, Red Bull, Flipkart and Amazon.
Popular shows: Comicstaan, Laakhon Mein Ek


Dhruv Sheth

Managing Partner, OML
"OTT platforms provide content creators with freedom to express their creativity, in terms of language, genres, etc. Our new talent management division is aimed at finding content writers across the spectrum to cater to the growing need for engaging content across platforms."
GOQUEST DIGITAL STUDIOS

Founder & Managing Director:
Vivek Lath

Director:
Darshan Bhatt

Number of employees:
6

Locations:
Mumbai, Bangalore, Vietnam

Started in 2018, GoQuest Digital Studios (GQDS) is an end-to-end boutique content studio backed by GoQuest Media Ventures. The firm was established with the aim of bringing about a transformation in the content creation and distribution market by subtly integrating brands and designing customized content strategies relevant to the brand's target audience and in sync with current trends. GQDS handles creation, production and distribution of content, working with platforms in India and globally. Some of the partners it works with in India include YuppTV, Jio Cinema and ShareChat.
Popular shows: Driving Force, Volkswagen Ameo Cup


Darshan Bhatt

Director, GoQuest Digital Studios
"Today increased exposure to global content is creating a lot of intrigue for audiences, providing scope for cross-distribution of content across markets, irrespective of language. Our acquisitions and syndication are a function of where we see merit in the content."
CULTURE MACHINE

Founders:
Sameer Pitalwalla and Venkat Prasad

CEO:
Sameer Pitalwalla

Number of employees:
150+

Locations:
Mumbai, Delhi, Chennai, Hyderabad, US

Founded in 2013, Culture Machine is a digital media company that uses technology and story-telling to build digital brands that connect with audiences across age groups. By combining technology with exciting online content, it currently runs some of India's largest digital media platforms including Being Indian, Blush, Put Chutney, Awesome Sauce and Viva. It also works with OTT platforms Amazon Prime Video and Eros Now, among others, and advertisers like Sony, Vodafone, Airtel, P&G, Nokia, Tata, Havells, Mumbai Indians, among others, apart from media companies and agency partners worldwide. Its maiden film documentary Amoli: Priceless released in 2018 in seven languages won the National Film Award for Best Investigative Film. Culture Machine is a wholly owned subsidiary of The Aleph Group, Singapore.
Popular shows: Date Gone Wrong, Guddan – Tumse Na Ho Paayega


Sameer Pitalwalla

Co-founder & CEO, Culture Machine
"As the competition in the OTT space heats up, consolidation and partnerships are the way forward and only those with disruptive content will be around for the long haul."
BANIJAY ASIA

Founder & CEO:
Deepak Dhar

Location:
Mumbai

A French independent content creation company which creates premium content for television, films and OTT platforms across genres such as entertainment, factual, scripted and reality, Banijay Group entered the Indian and South East Asian market in 2018 in a joint venture collaboration with Deepak Dhar to expand its presence in these markets. Some of Banijay India's key associations include Salman Khan's SK TV that recently brought back 'The Kapil Sharma Show', MS Dhoni's Dhoni Entertainment Pvt. Ltd. that co-produced 'Roar of the Lion' on Hotstar Specials and a recent collaboration with GroupM's Motion Content Group. Apart from that, Banijay Asia has also produced various shows like Ruskin Bond's 'Ghost Tales', 'Hostages', 'ARRived' with AR Rehman, as well as region-specific shows including 'The Great Indian Laughter Challenge' (Telugu) and 'Divided' (Tamil), amongst others.
Popular shows: ARRived, Hostages

Deepak Dhar
Founder & CEO, Banijay Asia
"I see great opportunities ahead in the booming OTT ecosystem. This is a great time for content creators to bring out their best stories and characters and we work with some of the best writers, technicians and directors in the industry for diversified content."
MOTION CONTENT GROUP
National Business Head:
Sudip Sanyal
Number of employees:
10 in India
Locations:
Globally present in 26 countries
Started in late 2017 as an offshoot of the erstwhile GroupM Entertainment with the idea of leveraging GroupM and WPP's expertise in the understanding of brands and media, Motion Content Group partners with leading international talent, producers and distributors to fund, develop, produce and distribute premium content. Headquartered in London and Los Angeles, MCG has already produced over 200 titles globally as well as franchised shows in India, available on Dish TV's OTT platform Watcho. It has also collaborated with Banijay Asia, Viu and YouTube to co-create content.
Popular shows: Hello Sago, No. 1 Yaari, Vote The Hell


Sudip Sanyal

National Business Head, Motion Content Group, WPP
"With increasing digital penetration, the need for content creation will be continuous, so that's where the big opportunity lies. Pure content will have as large a role to play for content creators as branded content."
APPLAUSE ENTERTAINMENT

CEO:
Sameer Nair

Number of employees:
40

Locations:
Mumbai and Chennai

Launched in 2017, Applause Entertainment Private Limited is a media, content and IP creation studio based out of Mumbai and funded by Kumar Mangalam Birla, chairman of the Aditya Birla Group. With a focus on creating premium digital drama series, Applause Entertainment has over 20 premium digital series lined up for the year. In March this year, Applause Entertainment and Hotstar announced their collaboration for the first slate of originals to be streamed on Hotstar under its new label 'Hotstar Specials'. These would include the shows Criminal Justice, Hostages, The Office (in partnership with BBC Studios) and Mayanagri – City of Dreams. It also collaborated with Amazon Prime for the release of Mind the Malhotras.
Popular shows: Criminal Justice, Hostages, The Office


Deepak Segal
Head of Content, Applause Entertainment
"We are talking to all OTT platforms today and we welcome new platforms as it gives us an opportunity to cater to the growing demand."
BBC STUDIOS INDIA

Senior VP & GM, SEA and South Asia:
Myleeta Aga

Locations:
Mumbai, Delhi, Bangalore, UK

BBC Studios is a wholly owned subsidiary of the British Broadcasting Corporation (BBC). Established in 2008, BBC Studios is known for its premium content across genres, from studio-based entertainment to reality, general entertainment, magazine and lifestyle formats, fiction series, promos, advertising films and documentaries. This content is developed, commissioned, produced, co-produced and syndicated across global platforms under the BBC-owned IP. In 2018, The BBC Group announced the merger of BBC Worldwide and BBC Studios to bring content creation and distribution together towards its long term creative and commercial success. Some of the OTT platforms that BBC Studios works with include Amazon, Netflix, Hungama, Tata Sky and Vuclip.
Popular shows: Doctor Who, Sherlock, Top Gear, Jhalak Dikkhla Jaa


Myleeta Aga

Senior VP & GM, SEA and South Asia, BBC Studios
"In these last couple of years when OTT content has really changed the marketplace, we have been working with most major OTT platforms to offer consumers a diverse library of innovative content."
OTT – THE CONTENT BATTLE JUST GOT BIGGER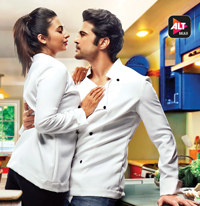 With more and more OTT players getting into the market, the competition is getting more fierce. While several big broadcasters spotted the opportunity in digital content and launched their own OTT platforms, other platform aggregators like Zomato, Flipkart, Paytm, Ola and the soon-to-launch Disney+ from the Walt Disney Company, Vudu from Walmart and Apple TV+ from Apple Inc present a bigger challenge in ensuring consumer loyalty. So how exactly are existing OTT platforms riding this wave while leveraging the consumption boom?
COLLABORATION AND CONSOLIDATION
Partnerships are the name of the game in this cut-throat OTT market, where only the ones with big pockets or with truly diversified, engaging content offering something for everyone will survive. Leveraging one another's strengths is what has seen partnerships like ZEE5 and ALTBalaji, MX Player and SonyLIV, and SonyLIV and Hungama, among others, come together to present a more fortified war chest that consumers just cannot refuse.
Presenting his view on consolidation in the OTT ecosystem, Vishal Maheshwari, Country Head - India, Viu, says, "If players keep getting added on without any differentiation, or players keep coming in because they think that OTT is in the space to come in to, then there will obviously be a point of time when they will run out of the deep pockets that are required to stay in this. However, if new players have a very clear focus in terms of their consumer base, monetization model and the stage in which the consumer is, along with a differentiated content offering, then there is headroom for them to operate."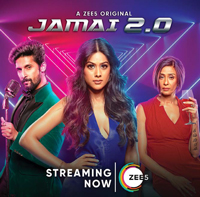 According to Amogh Dusad, Head Content, Partnerships and New Initiatives, SonyLIV, "Going forward, OTT platforms will bucket themselves into a particular kind of video strategy. Everybody doesn't need to do a long form scripted series. Somebody might see value in shorter form content or in a particular genre of content. Their strategies will be aligned accordingly."
"Even in the television scenario way back in 1997-1998, there was talk of consolidation with only 5-6 major channels remaining. However, today we are at 650 television channels. India is not a country fully addressed by a limited number of platforms and hence in the OTT space as well, I expect there will be differentiation in terms of networks specifically for regional play, sports, entertainment, etc. We are just at the tip of the iceberg currently," notes Nachiket Pantvaidya, Group COO, Balaji Telefilms and CEO, ALTBalaji.
Netflix has also signed an exclusive multi-year content deal with Karan Johar's newly launched digital content studio, Dharmatic Entertainment. Similarly, ShemarooMe, the recently launched OTT app from Shemaroo, has a partnership deal with Dainik Bhaskar to host its entertainment content on the newspaper's app. Many OTT platforms today also have their own in-house studios where they create original content or co-create content with content production houses.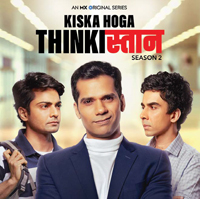 Of course, some industry experts believe that in the long run, only a handful of large players will remain and the rest may just fade into oblivion. Says Sameer Pitalwalla, Co-founder & CEO, Culture Machine, "As the competition in the OTT space heats up, consolidation and partnerships are the way forward and only those with disruptive content will be around for the long haul."
Remarks Jehil Thakkar, Partner, Deloitte India, "I don't think the market can exist for long with 30-35 or more players. Right now, almost nobody is making money. We are in a customer acquisition phase, and at some point, people will either run out of money or decide that they can't sustain anymore, and will either have to fold up or sell out. At that time, it will boil down to maybe 6-7 mainstream players."
DIFFERENTIATED CONTENT
Today, 'originals' and regional content are what most OTT platforms are pushing in a bid to stand out from the competition and offer a different flavour. Says Pantvaidya, "For ALTBalaji, our Hindi content targeting the masses, affordable pricing and our large library of originals is what helps us stand out from the crowd." Eros Now. which recently launched Eros Now Quickies, short form content exclusively hosted on Eros Now, is planning to launch 50 quickies this year. According to Ridhima Lulla, Chief Content Officer, Eros Digital, "We have been seeing very good numbers in terms of growth for our Quickies, which people can watch on the go, because of the short duration. We see this becoming a much bigger trend because it suits our market."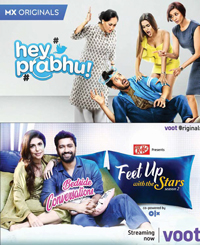 The Bollywood film industry too seems to be sensing a lucrative opportunity in OTT – be it with more directors making films for these platforms or top rung actors delaying film dates to work on interesting web projects. Jio offering 'first day, first show' film premieres on its platform and others like ShemarooMe offering weekly Bollywood premieres on its app presents yet another interesting opportunity for Bollywood film-makers.
On the uptake in regional content, Siddhartha Roy, COO, Hungama Digital Media says, "Over the last year-and-a-half, we have seen a tremendous increase in consumption in regional languages. Over 48% of consumption on our platform happens in languages other than Hindi. Punjabi, Tamil, Telugu, Kannada, Malayalam, Marathi and Bengali have shown the maximum growth amongst all languages. We expect our regional library to drive growth for us and help us increase our user base in non-metro markets by 2X." In case of Voot too, 20-23% of growth in consumption comes from regional content, with accelerated growth from Tier II and III towns. Remarks Akash Banerji, Business Head, AVOD, Voot, "About 30-40% of our growth is coming from non-metros, with more than 53-55% of the audience on our platform being female and almost 25-30% audiences are of the 25+ age group. This essentially means that OTT is no more about young, upwardly mobile audiences, only reaching a part of the population. It has very clearly become mainstream."
Karan Bedi, CEO, MX Player adds, "One of the big areas we have seen working is millennial stories where we had dramas or comedies around people who are either in their late teens, early twenties, or mid-twenties. The other bucket that is doing well for us is crime. Again, it's the kind of content that you don't usually see on TV. Technology is also very important. You have to have a platform and service that works well in different parts of the country, across different tech platforms. But, of course, content is still the biggest differentiator for a platform to stand out."
AVOD AND SVOD
Most OTT platforms today run on the advertising-led AVOD model, with subscription-led SVOD models being few. So far, however, OTT players aren't complaining about the high outgo on sourcing good quality content at a huge cost which isn't really compensated by advertising on its platform or bundled telco offers.
That said, with the rise in better quality content, many subscribers are willing to pay to watch shows of their choice today. According to Aparna Acharekar, Programming Head, ZEE5, "Today there is enough and more scope for the SVOD business. ZEE5 is a freemium model, with a mix of free and premium subscription-based content, but all our regional content before TV is behind a paywall. Consumers are willing to pay for catch-up TV on OTT platforms. Shorter form content may be AVOD. However, for good content and an engaging experience, consumers are willing to pay."
FUTURE FORWARD
As per KPMG, Netflix is set to invest about Rs 600 crore in original content production in India, Amazon Prime Video has earmarked Rs 2,200 crore over a 3-year period for its originals starting from 2017, ZEE5 is said to have a budget of Rs 350-400 crore for its originals, while Hotstar has a budget of Rs 120 crore – as per media reports.
"We are in a golden age of entertainment in India. It's exciting to see how quickly both creators and consumers have embraced what streaming services such as Netflix have to offer. What we're looking for at Netflix are unique stories, story-tellers that have a real passion, the ability to execute it or our belief that we can support them to bring their vision to life," avers a Netflix spokesperson.