TRAI's new tariff regime may have brought with it a great deal of uncertainty, but Ferzad Palia, Head-Youth, Music and English Entertainment, Viacom18 maintains that the network's youth and entertainment channel MTV has stood the test of time. "We've brought back our creative mojo," announced Palia as he revealed the channel's new content lineup for the months ahead. The channel has succeeded in retaining a big base of its loyal audience and has recorded an increase in the time spent.
On MTV's new content line-up
The channel will kick off with a brand new format called MTV Hustle, which Palia says will be India's first rap talent show. The show will unearth underground hip hop talent, something that has been growing for quite some time in the country. Palia explains, "It is about time that we put up a large scale reality show to get this talent out of the woods and put them on the mainstream stage, both on Television and on Digital. We also have our 12th edition of MTV Splitsvilla coming up, with Sunny Leone and Rannvijay as hosts. Splitsvilla is a marquee property that has been growing phenomenally well with every passing season. The past season witnessed a reach of 131 million viewership." Additionally, the channel is also set to air the second season of MTV's Ace of Space. Palia tells us that the show saw a successful first season with a reach of 71 million. The channel will roll out its new content sometime in October, he added. "This is the year when MTV is scaling up on a lot of its original content. These are very interesting times for us, given the growth and viewership that we are witnessing, both on television and on Voot," remarks Palia.
On MTV's performance in H1 2019
Palia claims that the channel has registered 700 million views and 3.67 billion minutes of viewership, cumulatively on TV and on its OTT platform, Voot. Riding on original and branded content, MTV intends to scale up watch minutes on the channel up to 5 billion, or 30%, by the end of the year over the same period last year. In terms of original content, the channel has about 250 hours of original content and intends to scale it up to 350 hours by the end of the year. The channel hopes to get this growth on the back of the content line-up scheduled to be released in the next six months. On advertiser interest, Palia says, "The ad market is currently a bit soft. However, we have roped in sponsors like JBL, Philips and Breezer for our new shows. We are seeing good results because of our differentiated content."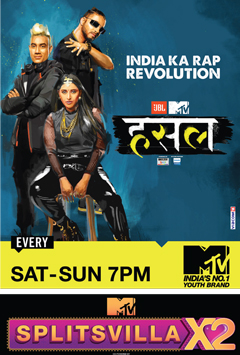 He also adds that MTV has seen success in monetising previous successful shows. "Advertisers generally, and especially when everyone's money is so tight, want to see results and proof of concept before they can invest more. Compared to first seasons we've seen growth of 200-300% because if a show does well, and it hasn't been sponsored before, that growth figure could go anywhere. If a show does well in the first season, it's much easier to monetise it and you see more demand in the subsequent season." Multiple revenue streams such as ad spots, customisation, integration and sponsorship have also helped the channel do well, points out Palia. "We are witnessing a lot more revenue on the digital front because our content is extensively consumed on Voot," he explains.
On strengthening the youth connect
Palia reveals that the channel does an extensive youth insight study every two years, which is eventually released in the MTV Youth Marketing Forum – YMF. In the past, the channel has taken several decisions based on the outcomes of YMF study that are largely inclined towards youth trends. "We have replaced popular hosts on shows not because the audience may say something negative against the hosts, but rather because the kind of trends and direction that we see among the youth may not always resonate with them. So, some of our most important decisions have been based on the YMF survey, and we have used its insights in almost every single season of our shows," Palia points out.