Indian brands saw a 6% rise in overall brand value to $228.2 billion, as per the sixth edition of the BrandZ Top 75 Most Valuable Indian Brands 2019, unveiled by WPP and Kantar Millward Brown recently. While there was a substantial dip in growth this year, as compared to the 34% growth in 2018, the top 10 brands have continued to grow steadily, with the top three brands on the list, namely, HDFC Bank, Life Insurance Corporation of India (LIC) and Tata Consultancy Services (TCS) making it to BrandZ's Top 100 Most Valuable Global Brands list.
HDFC Bank, which topped BrandZ's Top 75 Most Valuable Indian Brands 2019 list for the sixth consecutive year, and was the sole brand to be featured in the global 100 list last year, has seen its brand value grow by 5% this year to touch $22.7 billion, in contrast to the 8% decline in value of the top 20 global banks. Second-ranked LIC's brand value rose by 2% to approximately $20 billion, while third-ranked TCS' brand value rose 21% to approximately $18 billion.
According to
Preeti Reddy, CEO South Asia, Insights Division, Kantar,
"Brand trust is becoming increasingly important for a brand's value. The brands which are the most trusted have grown five times faster than the Top 75 brands, and are worth 129% more. Thus, brands would do well to consciously work at building consumer trust – it is the shield that gives a brand the resilience to face headwinds in uncertain times, and this requires long-term sustained investment."
The fastest riser in the 2019 ranking is telecom provider, Reliance Jio, which climbed one place to No. 9 with a 34% increase in brand value to $5.5 billion, thanks to its disruptive business model which has made affordable Internet access available to Indians across the country, coupled with apps providing multiple services from entertainment to digital payments.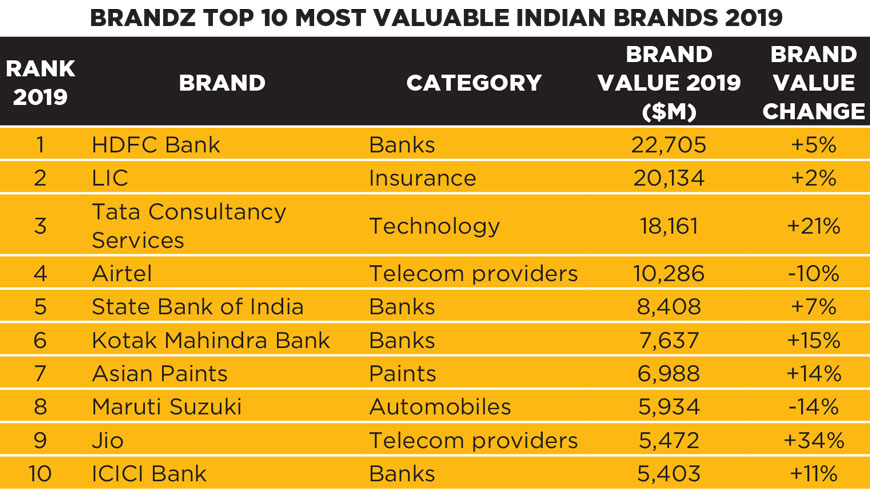 Some of the other brands that made their presence felt on the list this year were Flipkart (No. 12), which increased its brand value by 14% to $4.7 billion, Vodafone ($2.5 billion) which was the top-ranked newcomer to the list at No.24, while other newcomers to the list - Oyo ($2.0 billion), Swiggy ($1.6 billion), and Zomato ($1.0 billion) were ranked No. 30, No. 39 and No. 61, respectively.
Talking about how the report is a very important and integral part of WPP's strategy towards driving creative transformation,
CVL Srinivas, Country Manager of WPP
India, said, "BrandZ helps us stay ahead of the curve with relevant insights, keeping our fundamentals strong. This study helps us have more strategic conversations with clients aiding in positioning WPP and its operating companies as far more serious business partners to clients, and not just execution arms."
Some of the key highlights of the study indicate how factors like mobile Internet access, increased buying power, offlineonline retail competition and a global outlook for successful unicorn brands are drivers for increasing brand value. The report also shows that there has been a lot of volatility in terms of growth rates, with only 10 brands having consistently grown year on year for the past five years. That said, top brands have grown by 24%, or almost four times the average growth of all other brands on the list, continuing to prosper despite the economic slowdown.
Commenting on the report findings,
Vishikh Talwar, Chief Client Officer, Kantar Insights Division
, said, "The rise of 'middle India' combined with rapid growth of the mobile Internet is providing unprecedented opportunities for brands. But, with an almost overwhelming choice of products and services to buy, consumers are increasingly discerning. Brands that continue to grow at a steady pace demonstrate how purpose, impactful activation, being authentic and earning a consumer's trust through integrity and honesty help build longterm brand value."