Here are excerpts from the insightful debate.
Some of the eminent names who were part of the roundtable included Himanshu Gautam, Business Head, Digital, Amar Ujala Group, Varun Kohli, CEO, iTV Network, Anant Nath, Director, Delhi Press, Pankaj Pachauri, Founder and Editor-in-Chief GoNews, Shambhunath Shukla, Advisor, Digital Publishing, Punjab Kesari, Atul Chaurasia, Executive Editor, Newslaundry, Apoorv Parijat, VP, Engineering, POPxo, KK Sharma, Founder and Chief Editor, Cable Quest, Akshat Verma, AVP, Innovation, Design and Technology, Nyoooz, Vishal Goel, Head of Digital Strategy, Patrika Group and Shiv Prasad of Anjan TV. The roundtable was moderated by Rohonesh Kar, Country Leader, Media Presales, Akamai and Kanwaljeet Singh Bedi, CTO, NDTV & Gadget 360.
Speaking about the challenges in the digital domain, Himanshu Gautam, Business Head, Digital, Amar Ujala Group said that it was critical for brands to have a great product in order to win the battle in the long run.
"Our focus on digital is about creating engaging content for our audiences. This has worked in our favor so far. Secondly, we give a lot of importance to community building too, wherein we focus on localizing content for users across various cities," stated Gautam.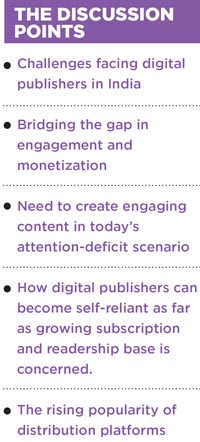 NEED TO BUILD ROBUST DIGITAL ECOSYSTEM
Underlining the need for a collaborative effort to build the digital ecosystem, Varun Kohli, CEO, iTV Network said, "As digital publishers, while we thrive on producing authentic content, we can all come together and explore the possibility of demanding subscription charges for the content offered.
This will not only help us resolve the subscription-based issues, but also beat the Google-Facebook duopoly to a large extent."
THE SUBSCRIPTION DILEMMA
Speaking about sustaining business through the subscription-based model, Anant Nath, Director, Delhi Press said "There was a time, as a magazine publisher, when we were focusing on how to add to the volume of the content.
Now we look at calculating minutes of viewership that we are getting in a month's time. Being a magazine publishing house, the overarching goal is to come up with content that will eventually produce subscription capability such that someone pays for it automatically. Whether we impose a fee for it is a different thing altogether."
"Space for local newspapers to have a subscription based model is less. Only a few big names can afford to have subscription capabilities in the market at one time, while others might find it difficult, unless we are looking at a niche audience", he further added.
"It is indeed important to curate news according to the interests of the reader and regional content should be kept as the top priority while curating content," said Shambhunath Shukla of Punjab Kesari.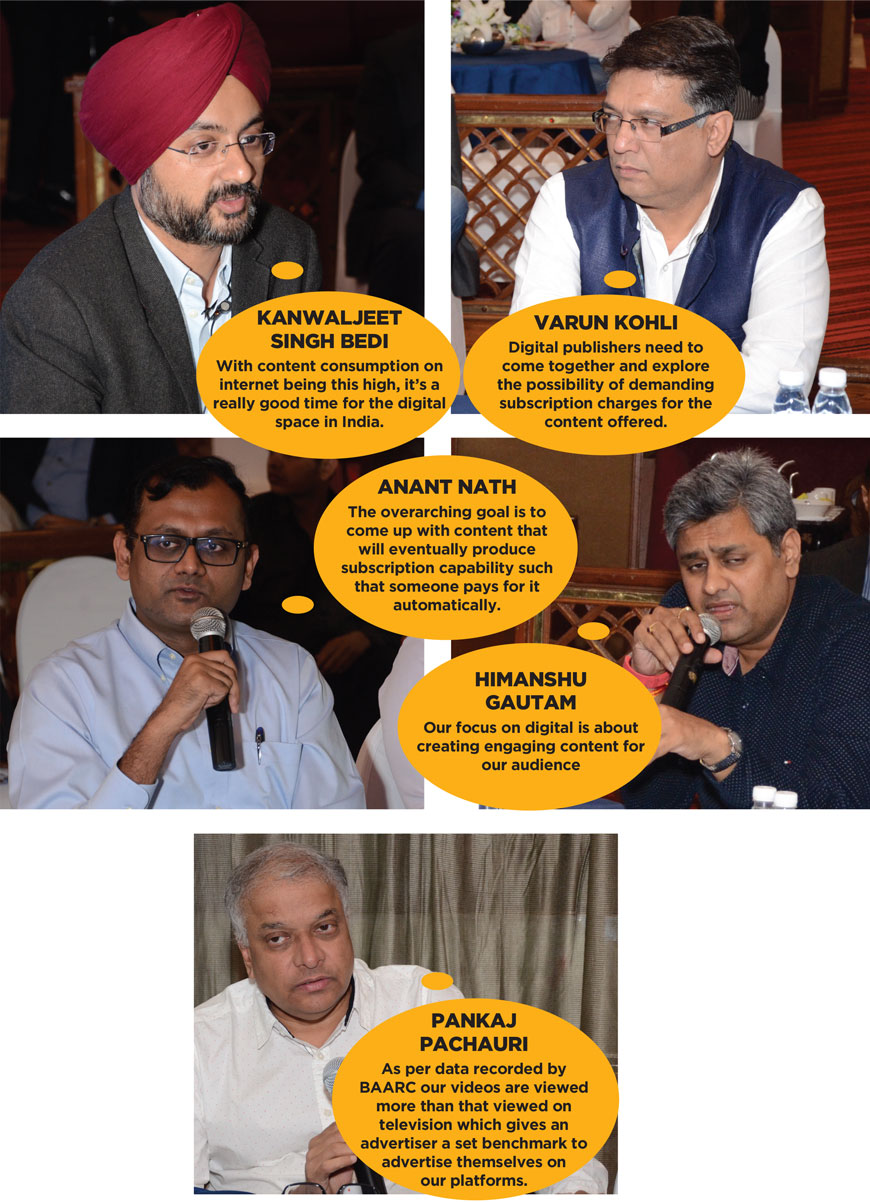 DIGITAL PUBLISHERS VERSUS TV
Speaking about his venture GoNews, Pankaj Pachauri said, "I see television as my competition, so we use BAARC rating. As per data recorded by BAARC, our videos are viewed more than that viewed on television, which gives an advertiser a set benchmark to advertise themselves on our platforms. Also we are sticking to the shorter form of video content in regional language which gives us an opportunity to co-create lot of content.''
"With interest growing in video, increase in personalization of content is changing the face of internet usage today. With content consumption on internet being this high, it's a really good time for the digital space in India", stated Kawaljit Singh Bedi, Chief Technology & Product Officer, NDTV Group and MD – Gadgets 360.