Arnab Goswami did hit the ground this poll season, but not to assess the field or report on it. Instead, post the launch of Republic Bharat, the ace television anchor-turned-entrepreneur has been travelling to meet his distribution and commercial partners in places like Varanasi, Kanpur and Punjab. He does miss reporting, he says, and would like to do more of it, but is secure in the knowledge that now the organization is no longer 'Arnab-centric' and has strong editorial and management teams who have his back.
More than Republic's leadership in the English news genre for 100+ weeks and the company being profitable, what he talks of is building a nimble organization with a distinct culture. He sums it all up precisely thus: "Both on business response and distribution, we are the most nimble company. Our response to situations, crises, requirements of advertisers and agencies, is really quick. If there is an escalation, any stakeholder has direct access to the senior management, including me, on video, and someone will actually fly out to meet them if it is urgent. Secondly, we have built the strongest management structure with people like Vikas Khanchandani, Bhaskar Das, Harsh Bhandari, Priya Mukherjee who handles distribution brilliantly, Charu Thakur who leads content… a structure that works very well. Third, we have managed to forge exclusive relationships with entitities from Facebook to Microsoft… all the big names. Then there is speed of execution – in eight weeks flat, we launched our Hindi news channel. You may call it Indian jugaad… but I managed to get high quality execution for Republic Bharat without incurring high cost. We are also a virtually debt free company, and from a four-employee company in December 2016, we have grown to over 750 employees, with very low attrition rates. We are attracting the best talent and have a gender-balanced team, in fact the Hindi channel has more women than men on the rolls. We are also a belief and trust organization – the top management exchanges no mails, but can discuss transactions amounting to crores of rupees just over a chat. Moreover, it's not an Arnab-centric organization anymore… it's got layers and layers of people and processes that are working fine. Take my show away and nothing happens – we have insulated the set-up pretty well."
Here are excerpts from a conversation with
Arnab Goswami, Managing Director and Editor-in-Chief
of the newly minted
Republic Media Network
:
Q]

What are some of the things that secured your position in the BARC ratings? What is your strategy?
We have been No.1 in the English news genre for 104 weeks now (Week 17, 2019). And we have consistently maintained market-share of close to 40%. In fact, we have expanded the whole English news genre by 61%. That is a huge number, which means we have actually brought people who are not watching news in to watching English news. And all of this combined with a differentiated distribution strategy, where we are available on 90% of the distribution platforms, while other channels are available on about 50% of such platforms. So we are delivering the highest reach within the genre just because of our availability. And we are of course the only free-to-air positioned English news channel. All of this combined with great content makes us a leader in this space.
Q]

Which are the news stories that you can single out as having brought big traction to Republic over the last two years?
One, in terms of the big exclusive story, the launch of political special investigation teams. We did Operation 'Karz Maafi' where you have political leaders saying that they actually defrauded the people. And we have got them on tape. About two months back, we did an extremely hardhitting investigation exposing members of Parliament who were willing to trade favours in exchange of cash that was funding their election campaign. These are big challenges to our democracy. Republic can devote the maximum resources towards doing this kind of reporting. We got about 18-19 crore viewers after the launch of Republic Bharat; that was probably one of the reasons why the Prime Minister chose to give us his first election interview.
Q]

What are the challenges that you face this election season?
There are no challenges. I look at this as a great opportunity, because now we have Republic Bharat. So, the Republic Media Network now reaches another 7,000 towns and 4,000 distribution networks through it. It's the most exciting new entry into Hindi news, and I have no doubt that we will soon be No. 1, upstaging Aaj Tak. One of the big challenges for me right now is to ensure the quality of the content across our English and Hindi platforms, but that the same content does not go to both as the audiences are different. We take care to differentiate.
Q]

Aaj Tak has had a decade of leadership in the Hindi news genre; will it be all that easy to topple that?
We will topple it in the next 2-3 months. There is no doubt about it. In the last 12 weeks, HSM, NCCS 15, Republic Bharat was sampled by 264 million unique audiences. In the same period, Aaj Tak was viewed by 278 million unique audiences. This is BARC data. We are almost there.
Q]

The Hindi news space doesn't get as high advertising rates as the English news space despite having higher viewership. Now that you have channels in both the genres, what do you think of this disparity?

I think rates will go up, because Hindi news will become the largest platform in India in the wake of the new tariff order implementation. We are available very strongly on free-to-air platforms. The Republic Media Network I think was No.3 in terms of bidders on day one of the auction. When people are moving away from the free dish, and moving into the paid category, we are moving into the free-to-air space. And the advertiser would want that space. We will hopefully be beneficiaries of it because we will provide that vast reach to advertisers.
Q]

How much of your news consumption is on the digital platform?
On the digital stream alone, there are more people watching Republic TV than people watching smaller channels. We have planned multiple innovations. We have a single source distribution strategy for our live stream. We are available on many distribution platforms from Just Dial to Ola Play to Paytm to Zee5 and Hotstar. We are already in a position to implement server side insertion of ads which will allow us to monetize our live stream better. We have built a very large technology team in Bangalore, and are working towards machine learning and introducing an AIbased recommendation engine for our digital platform. We have zero buffer on our videos. My focus is on building the technology behind the product. And after the elections are over, I will work on building very strong digital assets.
Q]

If you were to give yourself a progress report, on a scale of 1 to 10, how would you rate yourself?
I would give myself an 8 on 10 in both English and Hindi, because I think ours has been the most dramatic entry into the Hindi space, despite a lot of hostility from existing Hindi players. I will give myself a 10 on 10 the day we move ahead of Aaj Tak, which is a few months from now. On English alone, I would give myself an 8 on 10 because we have completed 100 weeks as Number 1 and I think that's phenomenal. As for Digital, I don't want to give myself any marks just now because I am still working on it, and it might be just the surprise new thing from the Republic stable. We are the first news players in the industry to invest in artificial intelligence. We have built a technology set-up operating out of Bangalore. Our website loads in 700-800 milliseconds on a 2 MBPS connection. The best part is that the technology is built inhouse and I am very proud of it. We have also designed the entire Hindi channel in-house. It is completely swadesi! We also picked up a team of anchors from different places, with different dialects which is remarkable and beautiful.
Q]

Where do you see the company in the next year?
Nowadays, wherever I go, people say 'Puchta Hai Bharat' when they see me. That tells me I am connecting to people. Republic Bharat will be the No. 1 Hindi news channel. Republic TV will continue to be the No. 1 English news channel. Republic World will work in multiple Indian languages. I will expand and go to the heart of India, and in all languages possible. I would want to operate in at least 10-12 languages apart from English. So, we would become a very diversified news organization. And then if all goes well, by the end of this year or early part of next year, we would start moving globally. I am already evaluating opportunities. The United States remains for me an attractive media market; I would want to be available in the US. And then there is western Europe and Australia. We are speaking to people in New York and London, investors as well as potential content collaborators. The question is, do I want to collaborate or do I want to be completely independent? We will make those decisions this year.
And eventually within the next 12 months, we are going global. And I am getting closer and closer to my global aspiration. I have set up a team that is analysing how we will grow in that space. The big global news company that was missing from India will be launched very soon.
'THE COMPANY DOES NOT JUST DEPEND ON ARNAB NOW'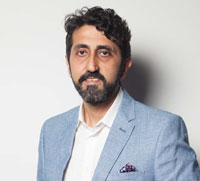 VIKAS KHANCHANDANI
Group CEO, Republic Media Network
Today, the company is not just dependent on Arnab," says Vikas Khanchandani, pointing out that while the Arnab Goswami show 'Puchta Hai Bharat' does really well on Hindi, he is not the only anchor, and the channel has delivered on merit of the overall performance of all the shows cumulatively put together. "The way we want to build this organization is by creating more entrepreneurial skills within every member and giving them opportunities to build each business vertical with scale, with a collaborative approach. We also build all technology capabilities in-house, and our digital game is clearly focused on video. Overall, the organization is big today, but lean. We are very prudent with our operations," he adds.
On leadership of the English news genre and how it has impacted advertising sales and revenue, he says that the market had factored in the success of the platform on the back of Arnab and the way the platform would do. "Commercially, we are highly valued. Similarly with Bharat, the time to extract commercial value of a particular property or IP on the back of success is much faster than it used to be. We are a very profitable network. For Republic Bharat, 80% of the inventory is sold for counting day alone. Then there is fixed spot strategy, with election-based programmes at premium, voting days, polling days, right up to government formation. Similarly for the English channel, we have the maximum number of sponsors including Jio, Jaguar, Toshiba, Nissan, etc., and our counting day inventory is almost packed. Branded content too is becoming a serious source of revenue," he says.
He estimates the monetizable value for the Hindi channel at the current performance level at upwards of Rs 300 crore, and that for the English asset at about Rs 200 crore. The valuation of the entire company is in the vicinity of Rs 1200 crore.
Going forward, Khanchandani says the focus would be on technology, market, platforms and languages at the same time: "The trick is in carefully stitching a strategy that gives us leadership within news across languages, markets, scalability and profitability. At Republic, we have built a differentiated culture which is focused on serving our audiences and making our advertisers win and that will be core to our purpose as a tech and media organisation. We also intend to build up Live TV in a big way."