In 2016, India witnessed a total of 1,20,000 home thefts, according to the National Crime Bureau Records, and the numbers since then would only have gone up. Godrej Locks, a 121-year-old brand, decided to up the ante to promote home safety in India, declaring November 15, 2017 as 'National Safety Day' with several initiatives planned around it. Godrej Locks also launched the #HowSafeAreYou campaign in the same year, wherein reformed robbers spoke candidly about their modus operandi, discussing safety measures that may have prevented them from breaking into homes. This campaign received widespread acclaim and successfully created noise among its target audience.
On the second anniversary of National Home Safety Day, Godrej Locks launched #HarGharSurakshit, a nationwide campaign to make Indians conscious of their home safety, with radio awareness campaigns running across 21 Indian cities. The brand has now decided to commit Rs 100 crore to promote this campaign over the next three years. Talking about the mega campaign and the brand's commitment to home safety, Shyam Motwani, Executive Vice President and Business Head, Godrej Locking Solutions & Systems, says, "People store important documents, money, jewellery and other valuables at home, with a traditional belief system that homes are safer than banks or lockers. This makes homes a treasure trove for burglars. As part of our Rs 100 crore commitment to raising awareness about home safety, over the next three years we will be leveraging more region-centric data points and on-ground community-led initiatives and activations to put home safety first."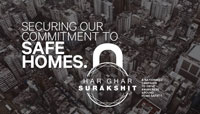 PROMOTING #HARGHARSURAKSHIT
The three-year roadmap to promote home safety will include planning community awareness programmes that will engage people across all age groups on home safety, while a significant amount of the investment will be spent on marketing efforts across multiple platforms to reach out to the masses across India. Moreover, with the objective of reaching out to maximum young consumers who can be evangelists for home safety, the maximum share of the investment will be on the Digital medium. Apart from this, the brand will also be engaging digital influencers to spread awareness. Furthermore, Radio will be used in a big way, along with other mainstream media. Godrej Locks has partnered with Whyness Worldwide as their creative agency, Isobar and Starcom as their media buying agency and Adfactors PR to promote this initiative. While the initiative is still in the early stages, Motwani believes it has definitely increased awareness of home safety amongst consumers. "A post-campaign consumer study conducted by Research Now across key metros highlighted positive changes in consumer behaviour, vis-à-vis the pre-campaign stage," he explains.
ON TO WIDESPREAD AWARENESS
While locks is traditionally a low involvement category, and home safety not really top priority for consumers, Godrej Locks has undertaken unique initiatives and campaigns targeting consumers through the online and offline media that are relevant to them. Apart from National Home Safety Day, on International Women's Day this year, the brand conducted a Digital campaign on Instagram, to drive the message of women's safety. Influencers shared video posts on Women's Day tagging men to take a pledge to make women feel not only special, but also safe. This activity led to a reach of 1.9 million and garnered two million impressions for Godrej Locks.
FUTURE ROADMAP
The locks market is estimated to be worth Rs 5,000 crore, of which the organized segment is about 40%. "We enjoy a marketshare of 45% in the organized segment. Our aim is to achieve Rs 1,000 crore revenue by FY22, with a focus on premiumisation of locks, architectural fittings and new categories, especially kitchen fittings; a sub-category we launched in 2013," Motwani tells us. "With #HarGharSurakshit, we aim to equip Indians with superior digital locking solutions. We are investing in research and development in line with our plans to launch digital, keyless locks over the next three years."