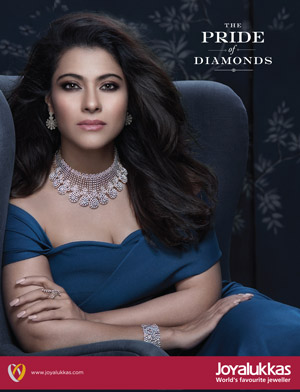 The Joy Alukkas group is a multi-billion dollar global conglomerate that has rapidly expanded its footprint all over the world since its inception 30 years ago. It is one of the fastest growing jewellery chains and over the last five years, and has opened about 10 new showrooms each year in India and abroad.
Joy Alukkas, Founder & Chairman of the Group
, revolutionized jewellery retailing through many innovative initiatives managed by his well-trained staff of over 9,000. Today, brand Joy Alukkas has become a household name across the world because of his vision and commitment to excel and constantly innovate. His meteoric rise is a true example of entrepreneurial grit and intuitive enterprise.
Here are excerpts from our conversation with him:
ON HIS ENTREPRENEURIAL JOURNEY
My father AJ Varghese ventured into the jewellery business in 1956, starting with a small showroom of around 200 sq ft in Thrissur, a district of Kerala. I joined the family business full-time in 1986 and then travelled to the UAE to study the potential for a jewellery business there. I saw huge opportunity and set up my first jewellery showroom in Abu Dhabi in 1987 and thereafter in Dubai. We faced some setbacks during the Gulf War, but once it was over, I started operations once again and grew the business across the Gulf. In 2001, I decided to commence operations in India and opened my first store in Kerala. This gave me the confidence to spread Brand Joyalukkas across India. Today, we are a multi-billion dollar global conglomerate that has rapidly expanded its footprint all over the world with varied business interests.
My entrepreneurial journey that started in the UAE with a single jewellery showroom, has become a 160-jewellery showroom chain spread across 11 countries around the world which includes USA, UAE, India, UK, Singapore, Malaysia, Qatar, Oman, Bahrain, Kuwait, and Saudi Arabia, within a span of 30 years.
ON GROWTH TRAJECTORY
Joyalukkas is one of the largest and fastest growing jewellery chains and over the last five years, we have opened approximately 10 new showrooms per year across India and other parts of the world. In India, the brand has expanded to over 88 showrooms. The Joyalukkas Group's business interests other than our flagship jewellery business includes fashion, money exchange, malls and real estate. We also run a full-fledged CSR division, Joyalukkas Foundation. I would attribute the success of the group to hard work, innovation, being systematic and strong consumer orientation. The common trend in the earlier days for most family-run jewellery businesses was that the owners would sit at the cash counters and manage their jewellery store.
For me, this meant I would not be able to grow my brand and business. So I decided to employ store managers and gave them the power to manage each store and its operations. They were answerable to me, but were given a free hand to run the show. If we empower employees with responsibilities, we will get time and motivation to strategize and grow the business. According to me, customer focus and systematic work is the key to continuous growth and success.
ON CHALLENGES FACED
Each and every country and location comes with its own set of challenges. But if we strictly adhere to the rules and regulations and abide by the laws of a country or region where we operate, we can overcome all the challenges. The Joyalukkas Group today is spread across 11 countries and my policy has been simple – if I plan to open a showroom in a particular country, I instruct my team to strictly abide by the laws of that country which includes labour laws, income tax laws, etc.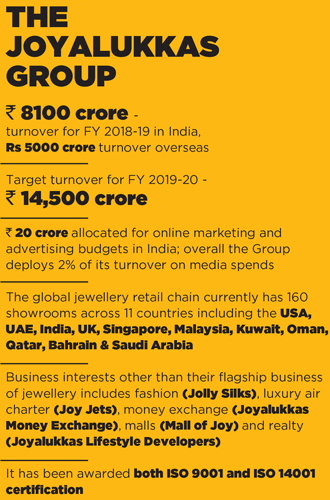 ON MARKETING AND ADVERTISING STRATEGY
The margin is very modest because we believe in giving customers the best at the best possible value. During each period, we have strategized our own marketing activities. In the early 2000's we used to sponsor prestigious events and functions. Now, we have adopted many new innovative ways to reach and connect with our customers. For example, the digital medium has attained enormous growth and popularity within a short span of time. We have started shifting a big chunk of our marketing spends to online. This year, we have allocated about Rs 20 crore in India for marketing and advertising budgets on Digital. The other media we use for advertising include Cinema, OOH, Print (newspapers and magazines), TV, Radio and Events. The preferred medium for us in India still is Print, specifically major newspapers in all regions. In countries like Singapore, we advertise on Radio, Metros and OOH. Media is just a factor and business is not dependent on it. There are a number of other factors like the showroom locations, showroom interiors, staff behaviour and approach, and jewellery designs which act as a catalyst for business growth. Gold purchase is not a recurring purchase for the average consumer, they buy gold once or twice in a year; so we cannot compromise on product design, quality and customer care.
ON FUTURE PLANS
I plan to expand the business in different verticals based on the opportunities available. Last year, our turnover for the jewellery business alone was Rs 8100 crore in India, out of which Rs 800 crore came through our online channels. The overseas turnover was around Rs 5000 crore. This financial year, we target to grow the turnover to Rs 14,500 crore. My objective for Joyalukkas is to grow, steadily and consistently and we have managed this year on year during the last 30 years of our operations.