After Twitter and Meta took the oft-difficult road of mass layoffs, the concerns of global recession looming over the world seem harsher than it was previously expected. North American and European economies are already experiencing the brunt of economic slowdown, and an inflation that was never witnessed for decades. While the world was still recovering from the catastrophic impact of COVID-19 pandemic, China's zero-COVID policy and the Russia-Ukraine war have further added to the economic distress by affecting the global supply chain and the geo-political equations, the question is, where does India stand?

According to the World Economic Outlook Report 2022, Global growth is forecast to slow down from 6.0 percent in 2021 to 3. 2 percent in 2022, and 2.7 percent in 2023. This is the weakest growth profile since 2001, except for the global financial crisis and the acute phase of the COVID-19 pandemic. Global inflation is forecast to rise from 4.7 percent in 2021 to 8.8 percent in 2022, but to decline to 6.5 percent in 2023 and to 4.1 percent by 2024, says the report.

Furthermore, on one hand, big tech giants like Meta, Microsoft and Google are sailing choppy waters as they reported a fall in the revenue growth for Q3 of the current financial year. On the other hand, when it comes to the FMCG sector, reports have stated that the Indian subsidiaries have beaten their foreign parents in business. Over the last 10 years, Indian arms of foreign FMCG giants like Unilever, Nestle and Reckitt have outperformed their global parents in revenue and profit growth, paving the way for their Indian business to become the largest in value over a period of time among all geographies they operate in. This could well be a marker that Indian markets are strongly positioned to endure the impact of recession, if not negate it completely.

However, history is witness to India experiencing a spillover effect of the crisis in the West. As the global economies are heading towards a downturn, it is most likely to cause an impact on the Indian economy as well. This raises a question, whether the impending slowdown will also affect brands and their marketing activities in India.
---
IMPACT OF GLOBAL RECESSION ON INDIA
Industry Advertising estimated growth rate likely to be cut down by 2% to 3%
Digital Advertising growth rate likely to be cut down by 4% to 5%.
Possibility that large spending categories will cut down on their advertising budgets by 10% to 15%.
Other categories too may foresee a drop of 8% to 10%
The marketing budgets of D2C brands who are at a very early stage can decline to 50% while Internet established companies could see a decline ranging from 30% to 40%.
WHY INDIA MIGHT NOT BE MAJORLY HIT?
Human capital is the biggest strength for India and when 70% of that human capital is focussed on software development with regards to exposure to the US, then we don't become dependent, they do.
Markets are buoyant
High FDI inflows
Atmanirbhar Bharat Programmes have also ensured self-sufficiency in the long run and reduced dependence on foreign market fluctuations
IMPACT OF SLOWDOWN ON BRANDS
Brands reducing marketing during downturns have a possibility of losing some of their business to competitors
Slowdown leads to discounting of brands, which in turn impacts the bottom line
It also reduces the spends on brand building
Consumers may trade down on pack sizes, deferring big purchases to a later time
Lack of brand innovation
Fewer brand launches
Recession will also give an opportunity to brands to reimagine their advertising and marketing when the wallet is tight
---
IMPACT OF SLOWDOWN ON BRAND MARKETING
The economy has a direct impact on the way marketers promote their products to the consumers. As buyers are more conscious about their purchase and investments, the marketing vertical is equally affected during an economic downturn.

"Historically, if we see the key recessionary phases in the last 50 years, consumption for most brands gets impacted negatively due to the curb in consumer spending. This is usually a global phenomenon. Data for the US market reveals a strong positive correlation between Ad spends V/s Real GDP. Of the 7 years of GDP decline, the Ad spends also saw a reduction in 5 of those 7 years. Thus, we can see how brands have responded in the past during recessionary phases. The average ratio of change is 1:4 for drop in GDP to drop in Ad spends. The way brands get impacted depends completely on the strategy they adopt, during the recessionary cycle," states Chandrasekhar Mantha, Partner, Deloitte India.

"The slowdown is a combination of pressure on margins, due to (high) raw material costs, and the drying up of investments in our start-ups from global markets. A combination of these two, along with a pessimism in global markets, have ensured that the festive season was not as big as we thought it would be," explains Ajay Gupte, CEO, Wavemaker India, while adding that we have a challenge at hand, but he hopes that things will get better because the consumer is still optimistic. "We are in a market that is growing, and there are many opportunities. People will eventually see the benefit of investing in marketing and communication."

Rammohan Sundaram, Country Head & Managing Partner – Integrated Media, DDB Mudra Group, presents an optimistic view on India's situation in the likelihood of an impending slowdown. "It's a known fact that when the US sneezes, the world catches fever, however this may not hold true for our country, at least for now. Unlike China, we exported human capital for twenty years and that is what is going to stand good for us. Our people are our biggest strength, and when 70% of that human capital is focussed on software development with regards to our exposure to the US, we don't become dependent, they do," he says, while adding that India won't have as much of an impact compared to the EU where the situation has gone from bad to worse.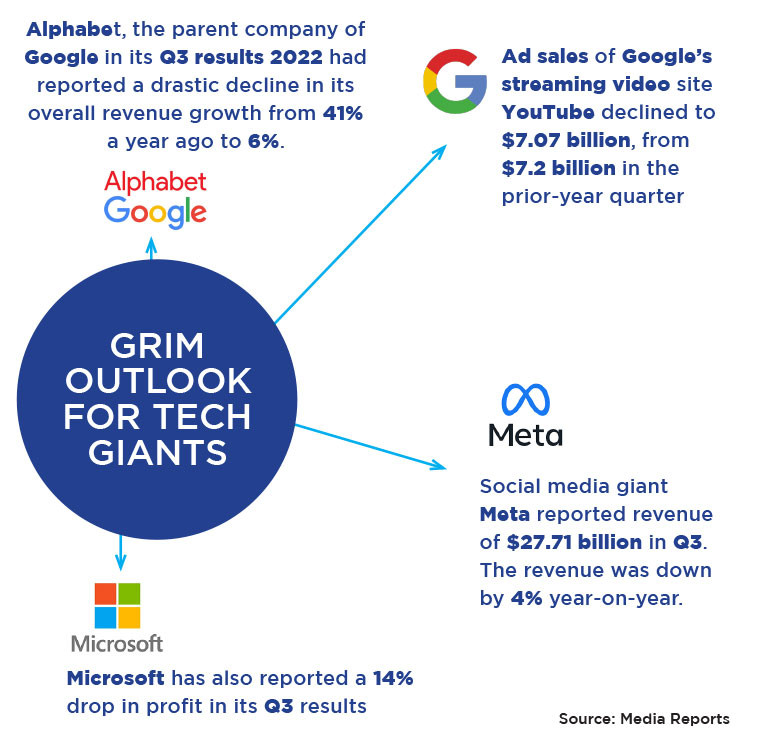 Speaking of India's outlook, he says, "The markets are buoyant, the FDIs flowing into the country are also on a high, and recently even the IMF declared that India has wiped out extreme poverty." He credits the government's Atmanirbhar Bharat initiative, which aims to ensure self-sufficiency in the long run while reducing dependence on foreign market fluctuations. Sundaram strongly feels that India may not actually go into any kind of slowdown, though there might be cause of concern around inflation.
Sharing some interesting observations, K. Ramakrishnan, Managing Director- South Asia, Worldpanel Division at Kantar says that the economic slowdown does not impact all categories uniformly. "The impact has been distinctly different across brands, segments and industries. Case in point is the sharp growth in travel and hospitality, premium goods and even QSR. We hear that this has been a sort of a bumper festive season for jewellery as well as Auto. At the same time, the inflation and its impact on the wallet is real, and consumers use several coping mechanisms against these. For example, from an FMCG lens, there is a sharp increase in the purchase of unbranded segments; there has been a drop in pack sizes; an increase in shopping occasions; and decrease in spends per occasion.

The impact on marketing therefore depends on which side of this coin the marketer is on. What is universal is the fact that the consumer is seeking a perceptual justification of money spent. That could come from physical value or in pride or joy of purchase. The marketer needs to therefore resist the temptation to paint a universal picture of gloom and look for opportunity shoots. In all circumstances the need to build trust around a brand and making the brand mentally and physically available is a definite given."

"The impact of the global economic slowdown on India is much lower than in many countries, and I do not expect this to have a significant impact on marketing budgets in India," states Ashish Karnad, Head – Media & Digital, Hansa Research.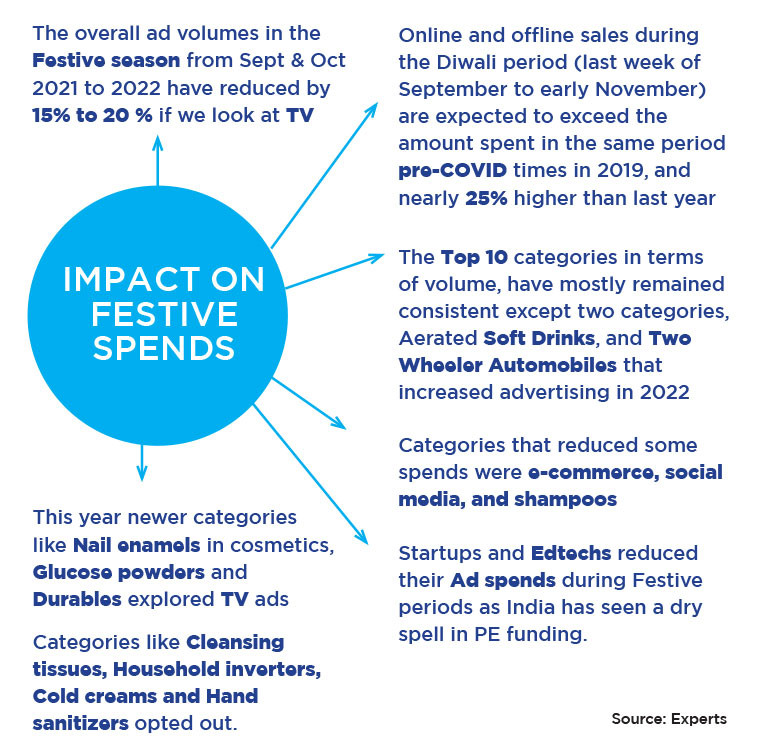 IMPACT ON BIG SPORTING PROPERTIES
A slowdown not only affects a brand, but also its association with various properties including big sporting events and the growth rate of brand sponsorships as brand presence, sponsorship money, and the overall marketing budget of brands might shrink. For the ICC Men's T20 World Cup 2022, the International Cricket Council (ICC) has struck numerous sponsorship deals, including Nissan, OPPO, Bira, Booking.com, Coca-Cola, BYJU's, Emirates, and Aramco. Moreover, other brands have also been seen rolling out different marketing campaigns around the T20 World Cup. Is it showing signs of recession? Let's find out.

Monaz Todywalla, CEO, PHD Media, strongly believes that there will always be advertisers looking to leverage cricket as a medium for increasing brand awareness and attracting more consumers, "As a sport, cricket has always enjoyed great popularity in the country, and has proved to be recession-proof for the most part. However, we have observed some level of fatigue lately that has led to a drop in viewership numbers, and the amount of time spent on the property. Segmentation in viewership is now split across media and platforms, as noticed during IPL this year; which has led to some advertisers questioning the rates at which such properties are being bought."
"IPL, the largest sporting property, had nearly the same number of brands advertising in 2022 compared to 2021. However, cricket viewership has seen a small decline in recent years, which may have an impact on advertising spends on marquee events," says Karnad, while adding that this has very little to do with the economic slowdown and more to do with the ROI of ad spends.

Echoing a similar perspective, Sundaram affirms that there is only one magnanimous property that actually exists in India, which holds a billion people. "I am pretty sure that IPL will continue to grow, though there must be some innovations that need to come by at the product level. While the C&S numbers might decline, consumption of IPL will only increase with digital penetration up to 98% in India and also with the advent of 5G. So the mechanism of distribution might change but the consumption through streaming will increase across devices whether it is a mobile device or a Smart TV. So the overall reach of a property like IPL will only increase."

Speaking of some of the nail-biting finishes in the ICC Men's T20 World Cup, he further states that the tournament is already a hit, and there will be growth in sports sponsorships going forward. "The tournament is now poised very well, and the broadcaster has stuck to its pricing with 80% of inventory sold before the first ball was bowled. The T20 is not facing challenges currently, though it might not have been easy when they started selling the property."

"In the backdrop of careful budgeting and judicious spending through the year, there has been a change in mix of ICC Men's T20 WC sponsorship consumption," shares Saagar Sethi, President, Amplifi. He says there has been a shift towards OTT platforms because of limited India matches and the timing of the tournament, especially after the festive season, wherein advertisers just spent a significant share of their budget. "This shift to OTT has not only allowed brands to overcome budget limitations, but also provided amplification and opportunities to target specific cohorts and different kinds of audiences. However, with an enthralling India-Pakistan match, and spectacular performance by India, there has been a notable increase in receptivity and expression of interest/queries for select India, Semi and Final matches on TV."

According to Mantha, with the envisaged slowdown, it is expected that recession may impact the premiums associated with the sporting properties. "The total number of sponsors in the T20 World Cup have reduced from 10-15 last year to 8-10 in the current year. As compared to the previous year, the pricing for regular matches has reduced marginally by 5 to 8%. Whereas, crowned matches like India V/s Pak have been able to sustain the last year's pricing.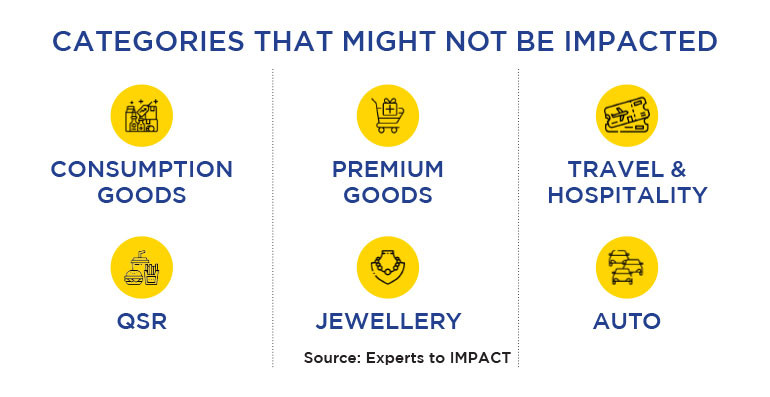 WILL ADEX DECLINE?
According to dentsu Global Ad Spend July Forecast, the advertising spends is expected to increase globally by 8.7% in 2022. With a growth rate of 16% this year, and predicted increases in advertising spending of 15.2% in 2023 and 15.7% in 2024, India is expected to see the highest growth in the region.

"Against the 16% projected AdEx growth in the dentsu Global Ad Spend report, we do not anticipate a slowdown or decline in advertising spends as far as 2022 is concerned," notes Saagar Sethi, President, Amplifi - a supply side management platform of dentsu international.

Karnad believes that the impact of the global economic slowdown on India is expected to be much lower, but this does not mean that India is immune to the global crisis. "While AdEx in India may not grow at the rate predicted at the start of the year, overall AdEx in India will only grow compared to last year and the Covid period. But the growth rates of various media will differ greatly."

Explaining how the slowdown will impact the marketing budgets of brands and the advertising growth rate, Karan Taurani, Senior Vice President - Research Analyst, Elara Capital shares, "D2C brands and internet, home-grown internet companies spend anywhere close to 40% of their marketing budget on digital advertising, which is now severely impacted because most of these companies have cut their ad spends by at least 30% to 50% on the basis of how severe the hit has been, or how seriously are they taking this entire profit path for the companies, which is in turn impacting the overall advertising industry."

Taurani further highlights that a large part of the incremental growth for the advertising industry was coming from Digital. "TV was largely growing at 5-6%, Digital was growing at 30% to 35%, which is why 90-95% of the incremental ad spends every year were coming from Digital. So, this has impacted all mediums of ad spends, but because digital was the highest growth driver in terms of the incremental ad wallet share, the growth impact of the recession has been heavier for digital. Digital advertising growth rates from 25-30% range will come downwards to the 20-25% range. This is the least impact, which is about 4 to 5% now, this can increase if this situation continues to worsen or probably does not improve from year on. And the overall industry advertising growth rate is cut by almost 2 to 3%."

"At this stage, it is difficult to ascertain just how much of an impact the slowdown will have on AdEx, but there is no denying that the effects will be felt. As some categories have seen positive growth on account of the festive season, it is hard to predict the precise outcome," states Todywalla.

"Of all the Global economies, India is poised to depict a strong resilience to the expected recession. Consumption goods may not see the impact severely. However, we may witness some cuts in the Ad spends and the same savings may be utilized to build other capabilities. There is a possibility that large spending categories may cut down on their advertising budgets between 10 to 15%. Other categories too may foresee a drop of 8 to 10%," observes Mantha. Elaborating further on media pricing and advertising budgets, he says that the media pricing may also get discounted in the downturn, which may keep the volumes intact but value reduction may happen on the Ad budgets and overall advertising revenue pie for media owners.

"Typically, you see a massive upside getting into the festival period. That massive upsurge has not happened in that way. It has been marginal," notes Gupte. "There has not been an upsurge compared to a normal year, not the pandemic years. Normally, you would expect the festive season to give you a lot better impact, but that has been a little subdued. It is certainly better than a normal month, but not to the levels that you usually expect to see."
---
STRATEGIES TO STAY AHEAD OF THE SLOWDOWN
• Brands should now start thinking "Digital First" strategies because that is where 65% of India's population is currently
• Look at optimising marketing budgets and strategies while keeping essential factors like geography and brand portfolio in mind
• Keeping in view the long term ROI, increasing spends during a downturn may work positively for brands
• Investing each ad dollar on media that is working successfully for the brand will be critical
• Typical to marketing, measuring ROIs of the Ad spends and realigning spends to garner the best outcomes will be a key prerogative in times of recession
• Brands may need to focus on enablers and disruptors. Enablers that build internal capabilities and disruptors that can armour the brand to navigate recession smoothly, like product innovation
• Brands should repurpose their positioning in the minds of consumers and adjust their communication
• Tech based automation that brings efficiencies in the marketing decision making processes should be considered to bring longer ROI benefits.
• Marketers should refocus their strategies for distribution, new consumer segments and overall marketing efforts.
• In the 2008 recession, Starbucks reinvented its strategy to change the brand perception as 'closer to the customer'. Its campaign 'My Starbucks idea' asked customers to create a profile and share what their expectations are from the Starbucks experience.
• With its e-reader 'Kindle,' that was introduced in late 2007, Amazon set the trend for sales of e-books that surpassed printed versions.
---
ROLE OF ADVERTISING DURING A RECESSION
Advertising has always been burdened with an important role of creating brand awareness and attracting more consumers. However, during a global economic slowdown when the entire world is facing the cost-of-living crisis with tightening financial conditions in most regions, it puts a big question on whether brands should invest in advertising or go for a cost-cutting approach to sail through the stormy weather.

Naveen Murali, Vice President & Head of Marketing, Pepperfry, believes that in times like these, advertising is even more important. "This comes from a place of empathy and responsibility as well, along with the ability to innovate and adapt. If a brand is able to resonate well with its consumer through all of these, especially in the case of a discretionary spend category, it helps drive higher consideration and purchases for the brand over its alternatives."

"The role of advertising remains imperative irrespective of the global situation," says Kirti Kabra, Director, RR Global. "The strategy that we plan to adopt is to identify economic measures of advertising that are more effective. Measures like connecting directly with the audience, and focusing more on-ground activities rather than heavily focusing on ATL activities."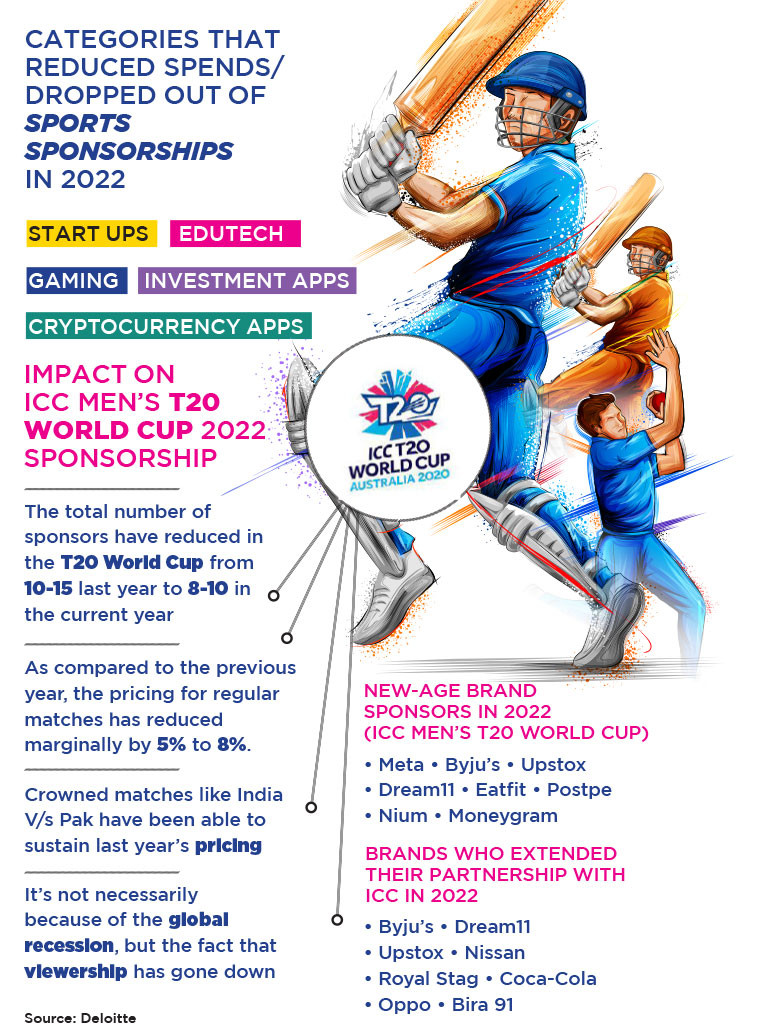 "Since we are not sure how deep a recession this will be, we have no plans to drastically cut on advertising spends as of now," shares Kishan Jain, Director of Goldmedal Electricals, which partnered with the recent T20 Asia Cup 2022 tournament as its Associate Gold sponsor. "Our current focus is to reinforce our brand message and as long as we are confident about the message we are communicating, we will continue to advertise while keeping an eye on the overall situation."
WHICH MEDIUM WILL SAIL THROUGH?
Digital witnessed a steep rise during the pandemic when other mediums like Radio, Print and OOH were badly hit. So this time, which medium will manage to keep its stakes intact in the wake of an impending slowdown or will we see a change in consumption pattern of the mix?

"When speaking of mediums, there is no one-size-fits-all strategy that works. This is mainly influenced by a brand's objectives and target demographic. Each brand utilizes its own marketing mix and what may work for some may not work for others, and vice versa," says Todywalla. "Though broadly speaking, TV and Digital will continue to take precedence over others. Many brands are focusing on digital spends across OTT, programmatic, and search ads. As for TV, it will continue to remain a popular medium for brands and advertisers due to its impact and targeting abilities in a market like India."

"Clearly, Digital spends will overtake TV spends by the end of this fiscal in India, and the medium that will grow therefore will be digital," asserts Sundaram. "C&S spends will be hit and note that I am not saying TV spends, I am saying C&S spends because I am distinguishing the distribution mechanism to that of the device, as 2023 will be the year of growth for Smart TVs in India. So TV consumption will grow, but the mode of consumption will be digital streaming. Therefore, my conclusion is that Digital as a medium is set for massive growth in 2023."

Mantha shares that with recessionary trends, the same advertising inventory is available at an attractive price and there will be newer emerging categories that will want to buy. "We can expect a shift in the categories and advertisers within. Brands, also based on their maturity curve will repurpose their priority mediums. We may see a conscious shift to mediums that offer addressability, measurability and better ROI as marketing heads will be made accountable for every Ad dollar spent. Digital, OTT and e-commerce advertising may gain traction as compared to other mediums."

"As online advertising allows focussed buys and better targeting, it will always remain our priority medium," Jain affirms while adding that Goldmedal Electricals will also look at marquee events like a cricket tournament that draws in huge audiences. "We also like television as a medium and will continue to use it depending on the situation."
---
CONCLUSION
Experts are optimistic about India's resistance to the impending slowdown due to the country's strong fundamentals, but some are uncertain about the impact Indian markets might have, while others do believe there will be a spillover effect, but not as harsh as the recession experienced by the West.
Although India is experiencing an inflationary phase, the impact of global slowdown is likely to be minimal.
The marketing budget and AdEx may not be impacted drastically, but the marketing strategies to counter the recession effect are likely to witness a change in approach keeping the inflation aspect in perspective.